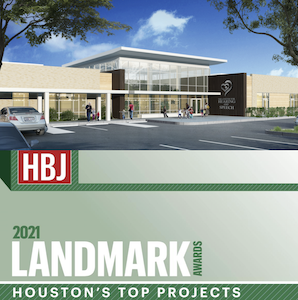 As the pandemic raged, new projects sprang up across Houston in 2020. HBJ's annual Landmark Awards honors those that shape the look, feel, and image of our city. Jurors chose 52 finalists in 18 categories. Architecture firm Inventure had PRISM produce renderings for their Texas Hearing Institute, a finalist in the Medical category. Winners will be announced April 22nd during a live internet broadcast, open to the public.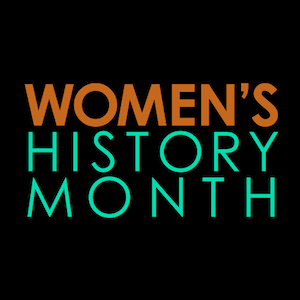 Every March, Women's History Month celebrates women in American history. In A/E/C, we recall pioneers like Louise Blanchard Bethune, the first female AIA member, and Ebby Halliday of Dallas called the "First Lady of Real Estate." But did you know Hedy Lamarr had a historic role in engineering in addition to starring on the silver screen? Women remain grossly underrepresented in architecture and related fields. But NCARB, the entity responsible for architectural licensure, reported in 2020 that "although women remain underrepresented in the profession, the gap continues to close." Thanks to more awareness of equity in the workplace, an emphasis on mentoring, and increasingly exposing STEM fields to girls at younger ages, the statistics are inching up. As an all-female team of working moms, PRISM routinely recognizes the role women can play in having successful careers in A/E/C and maintaining a happily balanced home life. Keeping the memory of these trailblazing women alive is one small way we recognize Women's History Month!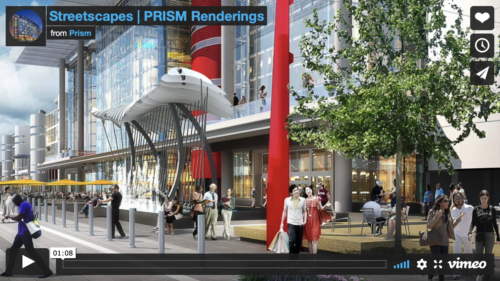 In most American cities, and especially in Houston, streets are a means of getting from Point A to Point B by motorized transit. But in the past year, as work-from-home pervaded businesses, previously crowded urban streets became eerily devoid of cars. Streets and the areas adjacent to them soon became more active pedestrian zones. Restaurants and patrons embraced outdoor dining. Bike share programs saw increased ridership. Small musical ensembles were even able to perform on some outdoor sidewalks. These streetscapes achieved what many developers and designers have long realized; streets are fundamental public places that can easily foster daily human interaction. A well-designed streetscape improves the aesthetic quality and safety of the street, boosts economic growth, and promotes social activity and comfort of communities. The renderings, in the video, depict the power of streetscapes to not only communicate site access and proposed improvements to both the public and tenants, but to also provide a sense of the character, which defines each place.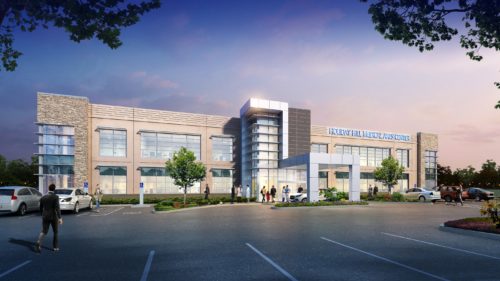 Developer Saber Street recently broke ground on their newest project, a medical office building in Midland, Texas. The 2-year-old firm specializes in healthcare facilities, providing a full suite of services including development, property management, leasing, investment management, and consulting. PRISM provided the rendering used for pre-leasing and marketing; to date, the building is approximately 65% leased. Coulon Dental, a large multi-specialty dental clinic, is the anchor tenant. The new MOB, the Holiday Hill Medical Arts Center, was designed by Kaim Associates and is being built by Arch-Con Construction. The structural steel frame has composite steel deck-slabs and tilt-wall panels, making for a relatively quick construction schedule. The project broke ground in mid-January and is expected to be complete in September. The 2-story building totals almost 33,000 s.f. and features a double-height glass lobby accessed through a porte-cochere. The façade is primarily glass curtainwall capped with a stacked-stone skin on the building corners.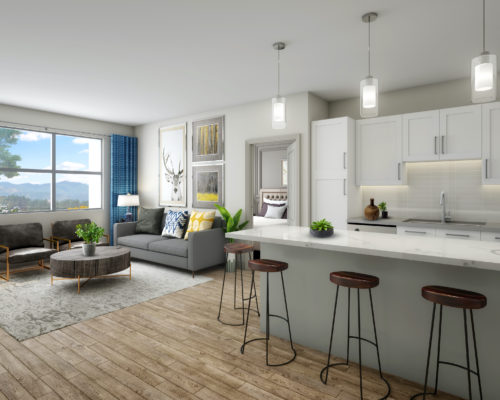 With almost 500,000 units under management, Greystar again claimed the top spot in the National Multifamily Housing Council's 2020 Top 50 Manager's list. And they show no signs of slowing down in 2021. The developer commissioned PRISM for interior view renderings to showcase one of their newest properties, Outlook Clear Creek Apartments, in Wheat Ridge, Colorado. Located mere miles west of Denver at the base of the Rocky Mountains, it has ample green spaces throughout and access to one of the area's premier bike trails. The community is being developed by Evergreen Devco, Inc. and is part of an expanding Clear Creek crossing neighborhood, a 110-acre missed-use development located near the intersection of Interstate 70 and Highway 58. The apartments have open floor plans with plenty of windows to capture the fantastic views and are outfitted with modern finishes, large kitchen islands, and stainless-steel appliances. Residents will enjoy the amenities in the clubhouse, including billiards, a co-working lounge, a pet wash station, and a fitness center. Did you know that Denver enjoys more than 300 blue-sky days a year? That's more than San Diego or Miami Beach! To take advantage of this, residents will have an outdoor game station, a kitchen and picnic tables, a fire pit, and outdoor pool with a hot tub, all with mountain views.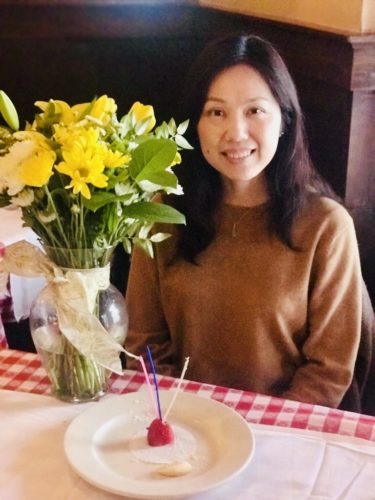 Birthday wishes went out this month to PRISM's Vivian Peng, our vice-president of project management. Her devoted yoga practice keeps her calm under pressure. No wonder multiple daily project deadlines don't phase her! Thank you, Vivian, for your eternal easy-going and sunny attitude, you are always a BRIGHT spot on our team.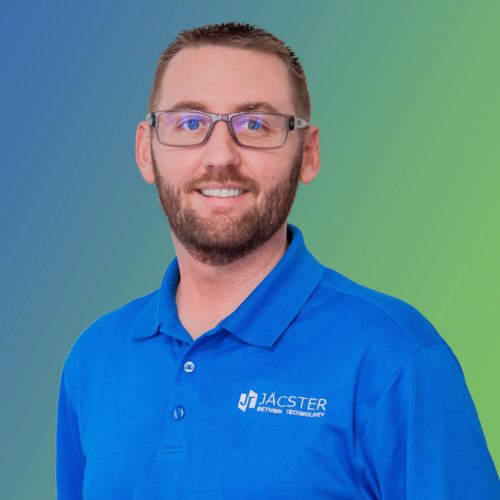 Welcome to the newest PRISM partner, Jäcster Technology. This full-service IT firm will ensure we're 100% connected to clients 100% of the time. We will also be enlisting their cloud-based solutions to make client file sharing easier and more secure, and to make our IT infrastructure disaster-ready.
Chinese New Year began on February 12. It's a time filled with traditional Chinese celebrations and rich with symbols to usher out the old year and welcome the luck and prosperity of the new one. 2021 is the Year of the Ox; oxen characteristics are diligence, dependability, strength, and determination. Zodiac watchers predict the ox year will bring success in business, career advancement, prosperity, and wellness for all zodiac signs.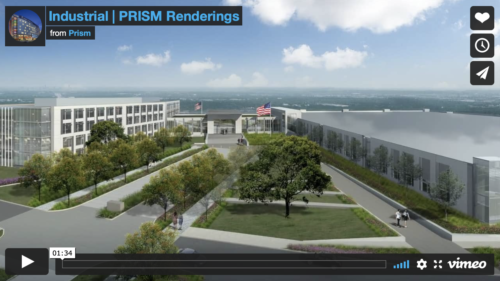 The industrial sector just may be the Cinderella of commercial real estate – always working hard and rarely in the limelight. But no more. Houston's industrial sector was the most robust commercial real estate sector in 2020. The year ended with stronger absorption and increased leasing activity. CBRE predicts new industrial completions nationally will grow by 29% in 2021, with net absorption reaching nearly 250M s.f. An example close to home is Floor & Décor, who just announced a 1.5M s.f. distribution center near Baytown. CBRE also expects retail-to-industrial conversion projects nationally to accelerate in 2021, especially in urban cores where land constraints and high costs have limited new development. Furthermore, the strong preleasing of spec industrial projects, which was 38% in Q3 of 2020, should result in demand keeping pace with new supply. This frenzy of activity is drawing design-centric firms like Gensler into the market, who is considering creating a dedicated industrial practice group, as reported by Bisnow. All the attention on this humble sector is causing developers and brokers to step up their marketing game to attract tenants. PRISM has assisted several clients looking for attention-getting renderings and animations to showcase their projects' unique offerings. Using our aerial view renderings superimposed on drone photos, clients can show detailed site access to multi-modal transportation. Eye-level perspective renderings are perfect to show loading dock layouts and types. Clients have also found our interior renderings particularly helpful to illustrate the flexibility of the warehouse layout and any amenities like overhead cranes.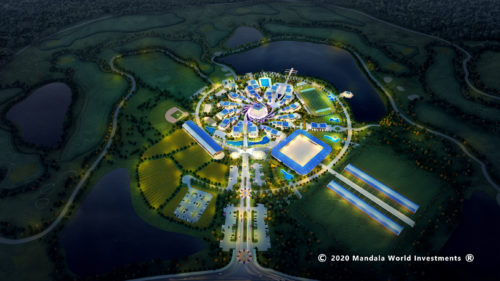 Eight years before COVID-19 made virtual school a reality across the United States, Dr. George Hutchinson, Sr. launched his internet-based educational company. Mandala World Academy is a revolutionary concept to provide an advanced education to people of all ages. It is rooted in humanitarianism and propelled by the belief that higher education for children, adults, and seniors provides the opportunity to lead more productive and rewarding lives. PRISM worked with Dr. Hutchinson to produce the animation and renderings used to secure the site of the first Mandala World Academy, in Wellington, Florida. The Mandala curriculum combines internet-based learning with a biodynamic, interactive campus environment. All campus buildings are designed using biomimicry architecture within a sustainable ecological site. The Mandala World Academy is distinguished from other educational programs by its neuro-educational approach, defined as the combination of neuroscience, psychology, and education. The Mandala World model has seven essential elements: Mandala art learning, brain-targeted teaching, rapid mathematics, self-directed learning, personal development, interactive environments, and cultural integration. The campus environment enhances this model by providing experiential opportunities in centers dedicated to such things as food and farming, athletics, arts and media, research, spiritual wellness, cultural integration, and equine therapy. The campus layout is based on the sacred geometric form of the Mandala, which is Sanskrit for "circle," and the Sunflower, the biomimicry metaphor for the Mandala World Academy. Students flow from the amphitheater at the center of the campus through the various educational activity centers and back again to process, share, and anchor their educational experiences.
100% Satisfaction Guaranteed
We strive for exceptional client service with responsive, effective communication and a relationship-centered approach.