Unlike fast food establishments, restaurant design is all about drawing diners in for a leisurely meal that may last for hours. And increasingly, the restaurant theme is manifest through the interiors; everything from finishes to lighting, color, and acoustics is carefully curated to reinforce the restaurant's brand. In a sector where build-out costs can climb as high as $750 per square foot, it's important to have as clear a picture as possible of what the completed space will look like. This is why 3D renderings are the perfect tool to employ early in the project process. Whether the concept is modern minimalist or staid luxury, highly detailed renderings can provide an almost photo-realistic view of interiors that don't exist yet. Even without drawings, PRISM can produce renderings from simple sketches and inspiration photos. It's also easy to customize renderings. Want to show how different furnishing impact the traffic flow? Curious how changing colored accents will alter the overall look? Considering more accent lighting? Renderings help to make decisions before making expensive changes after construction has begun. When it comes to obtaining funding for your new restaurant concept and marketing to the hungry masses, renderings are a useful tool. With the ability to drill down to such details as the dining chair fabric and the custom pattern of partitions, it is possible to differentiate your concept from competitors.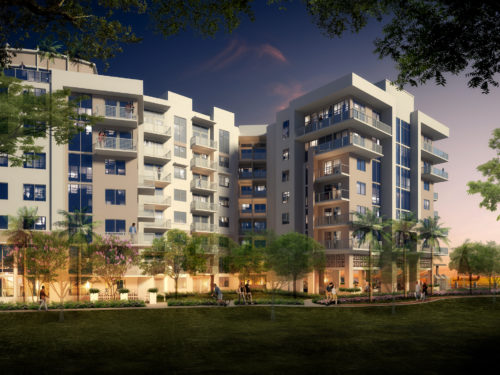 Part of being a good architectural neighbor is minding the context – site history, local culture, architectural style, native materials, and climactic conditions, to name just a few of the conditions. Developer Related Group and MSA Architects, Inc. (MSA) received approval last month for a new multifamily project on downtown Jacksonville, Florida's Southbank. The 8-story apartment community, named River City Brewery, will replace the existing River City Brewing Co. restaurant. The redevelopment of this prime parcel had to accentuate the riverfront and existing marina, heed the design of the surrounding museums, and respect the adjacent monumental fountain and park. PRISM produced several early-stage renderings to assist with the approval of the project by the Jacksonville City Council and the Downtown Development Review Board. River City Brewery will break ground later this year. Keeping with Related Group's mission to develop lifestyle-infused properties that revitalize urban neighborhoods, the new community includes several pocket parks incorporated into the site, and resident lounge terraces that take advantage of river views. MSA created a soft contemporary façade with a pale stucco palette. The $99.16 million project will have 327 units, a freestanding 535-space parking garage, and a new restaurant adjacent to River City Brewery. The 3,500 s.f. space will feature an expansive two-level terrace for outdoor dining along the riverfront.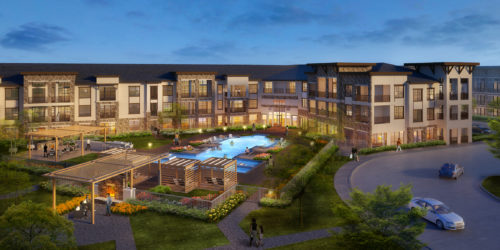 More new multifamily is now open in Midland. Stillwater Capital is betting on the longevity of the Permian Basin to continue fueling Midland's growth with their new apartment community, The Drake. With a population now over 153,000 and an average household income of $112,701, Midland is definitely still reliant on the petroleum industry. Though in recent years more regional telecommunications distribution centers have come to the 20th largest city in Texas. With The Drake, Stillwater Capital is aiming to fill the need for a modern aesthetic with boutique residences. PRISM produced the marketing renderings for pre-leasing and promotion. The 3-story garden-style development is on the northeast corner of Mockingbird and Big Spring across from Midland Country Club, convenient to many employers, and has ample outdoor space. It's what Stillwater Capital calls a connection to experience, "a life inspired by the rousing spirit of the West and hospitality-driven soul of the South." The façade features earth tones and local stone, reflecting the surrounding geography. Apartment layouts include one, two, and three-bedroom homes as well as oversized one and three-bedroom penthouses. The Drake has a resort-style pool with an outdoor bar and a convenient micro-market.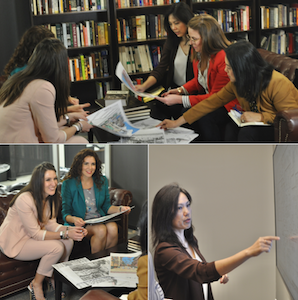 As a virtual team, in-person gatherings are equally valuable and fun, especially our EOS® Leadership session. Here we review previous quarter wins and lessons learned; issue process; and set new goals ensuring accountability flows throughout the company so that we can execute on our company vision—every day. Teamwork makes the dream work!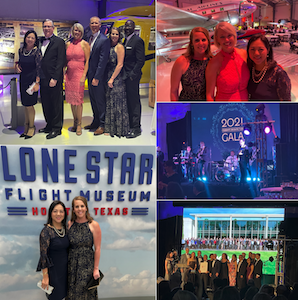 The annual Celebrate Architecture Gala is the largest fundraiser for AIA Houston. Jing and Sarah, along with their spouses, recently attended as guests of our dear friend and PRISM's chief story-teller, Carrie Stallwitz, owner of Witz!PR. It was a delight to gather in person with other passionate architecture supporters, see so many of our clients, and tour the amazing collection of vintage aircraft at the Lone Star Flight Museum.
"The best investment you can make is in yourself." We agree 100% with Warren Buffett on this! Houston Commercial Real Estate Millennial Misses (CREMM) is hosting a series on branding yourself. Deborah Gross is attending and will be sharing some highlights in the next newsletter.
Drone photography has come a long way since the first known aerial photo was taken in 1858. A camera was tethered to a hot air balloon 262 feet in the air to get a bird's eye view of a neighborhood outside of Paris. Since then, photographers have been capturing increasingly advanced images of our landscape as seen from above. This perspective gives the viewer a better sense of spatial relationships of large areas that couldn't possibly be perceived on the ground. Now, with renderings superimposed onto aerial drone images, it is possible to get a true sense of how a planned building project will relate to its surroundings. PRISM has been producing such images for over two years. Our clients have realized several benefits: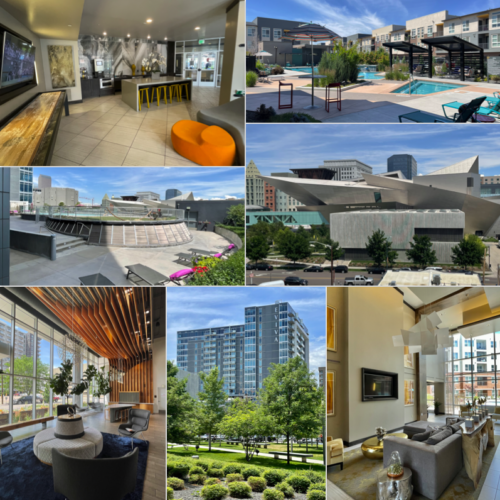 Whenever traveling, I endeavor to visit the completed projects we have worked on. It's such a rewarding experience to see the buildings and spaces transform from the photo-realistic visuals we created for our clients to a realistic masterpiece. During my recent family vacation in Denver, we stayed downtown to experience the vibrant urban life of the Mile-High City. I was so excited to find out we had worked on five projects located within 10 miles and decided to turn my last day in the city into a field trip. Out of the three projects I visited, the most exciting one is EVIVA, located one block from the Denver Art Museum, designed by one of my favorite architects, Daniel Libeskind. This luxury apartment building commands a chic yet industrial aesthetic style. The best part of the building is the magnificent view from the rooftop resort-style pool area and outdoor deck. It overlooks the striking massing of the museum, Denver skyline, and Rocky Mountains in the distance. Being a part of our client's grand vision for their projects is the ultimate gratification we gain from our work. I can't wait to visit more projects during future trips.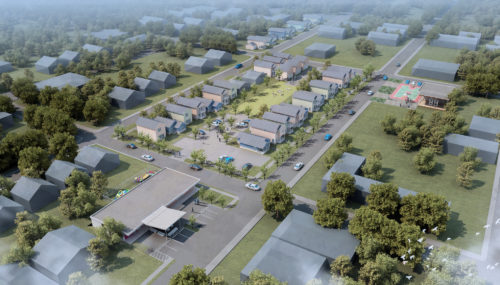 The median price of a single-family home in Houston hit a record high of $304,000 in May 2021. Considering that the median income of all Houston's neighborhoods is $44,124, this makes home ownership infeasible for many. And in Greater OST/South Union, where the median income plummets to $27,373, owning a home is only a dream for many residents. The Agape Homes Community Development Corporation (CDC), created by Agape Development Ministries because they saw their neighbors being displaced due to gentrification, is helping make this dream a reality. The non-profit plans to build 75 community-designed, affordable, energy-efficient homes. It is helping families below 80% AMI by offering to sell the homes at their cost. Local architect Kim Schaeffer led a community design charrette that shaped the final floor plans produced by W Partnership; all the homes feature exteriors that fit with the historical architecture of the neighborhood. Newmark Homes also provided insight into the design and ongoing support for the development. PRISM worked with the team to generate renderings critical for the development's success; renderings were used for Agape to obtain a land grant from Midtown Redevelopment Authority, purchase adjacent lots, market to future homeowners and donors, and aid new homeowners with home completion. Agape Homes is building new homes on empty lots in the neighborhood south of the University of Houston called OST/South Union. The intent is to cause zero displacements while increasing the owner occupancy rate in the neighborhood. Homes will range in size from 839 s.f. to 1,453 s.f., to fit the needs of buyers while staying affordable. All homes were designed through a community charrette with the input of neighborhood families. In addition to working in OST/South Union, almost all of the full-time staff from the Agape housing, ministry, and social enterprise teams live in the community as well. This practice allows the organization to plug in, share and experience the good, the hard, and the challenges of daily life in the neighborhood. It also helps to build closer relationships and be a resource and partner for the benefit of the whole area.
It would seem as though it wasn't until last summer's unrest that prioritizing support for Black-owned businesses became a popular trend for the nation at large. However, that is simply not the case, especially for Houston-based BLCK Market. Jeremy Malone (also known as J.O.) founded BLCK Market with the mission to provide a safe place for small businesses and entrepreneurs. The BLCK Market is curated to the Black American experience and provides an opportunity to showcase quality brands and products to tens of thousands of consumers. Their vision is to bring value back to the community through financial literacy, wellness, and creativity. BLCK Market, considered to be Houston's largest gathering of Black-owned businesses, started out holding in-person events every first Friday and second Saturday. When the COVID-19 pandemic began, it pivoted to an online platform out of necessity. Not only did this e-commerce marketplace keep the BLCK Market name alive, but it also kept other Black brands open for business. Today, BLCK Market has begun holding its in-person events again and it will continue growing its digital platform. On the horizon are plans to open its first retail store to further this important mission. BLCK Market Retail will be opening Labor Day weekend and will be located at the Pearland Town Center, only 15 minutes south of downtown Houston. Pearland currently ranks #6 on 24/7 Tempo's list of fastest-growing American cities according to USA Today. PRISM was honored to produce the rendering used to market the storefront debut. If you'd like to be one of the first 25 vendors to be featured at the Flagship store, visit BLCK Retail to learn more. The great news is all vendors keep 100% of their sales at BLCK Market Retail!
100% Satisfaction Guaranteed
We strive for exceptional client service with responsive, effective communication and a relationship-centered approach.