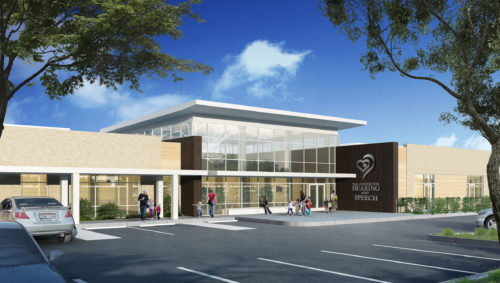 One could say the newest building coming to the Texas Medical Center will be music to its patients' ears. The Center for Hearing and Speech (CHS) is close to fulfilling its strategic plan to expand its service delivery to the Gulf Coast region, which will culminate in the relocation and expansion of their campus. A new $14.35M, 42,000 s.f. facility is planned to start construction this year and open in 2020 near Highway 288 and South MacGregor. CHS will share the building with a multidisciplinary team of physicians and experts from Texas Children's Hospital to provide patients from newborns to age 18 the best possible coordinated and comprehensive care. CHS became a member of the Texas Medical Center in 2017 to expand its reach to more children. The new building will allow CHS to double the number of patients served, which was 8,000 in 2018. CHS was founded as the Houston School for Deaf Children in 1947. It has since grown to become the most comprehensive resource for pediatric hearing loss in Texas and the region's only facility offering audiology, speech pathology and spoken language education at a single site. Inventure Design designed the new building and commissioned PRISM to develop renderings for the capital campaign. Inventure senior associate Scott Dooley led the design; we have worked with Scott personally since 2007 and appreciate the trust he's placed in PRISM since then.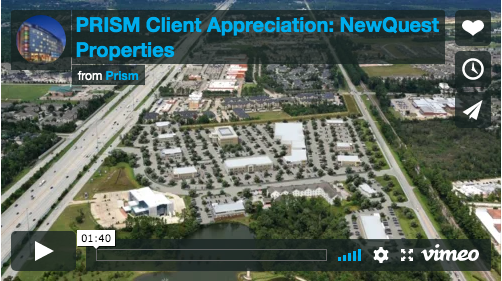 NewQuest Properties has been in strong growth mode since PRISM began working with them in 2015. Since then, the firm has gone from #14 on HBJ's list of the largest commercial property owners to #5 (from 3.95M s.f. owned to 8.57M s.f.) NewQuest continues to be a local leader in retail development, leasing, tenant rep, and property management. And now the firm has its sights set on the Healthcare and Wellness sector with a new division offering brokerage, development feasibility/strategy, architectural and construction management, and asset management. We look forward to continuing the exciting journey with NewQuest!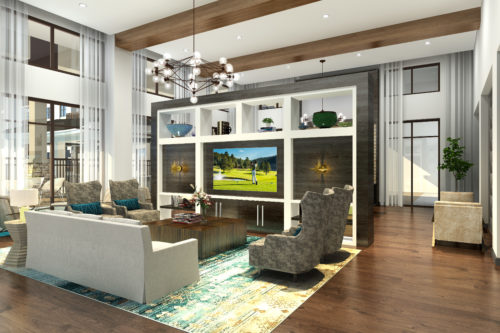 Palmetto Bay, a residential enclave just south of Miami, is creating its own urban center with a new multifamily development at its core. Palmetto Station phase I opened in March 2019, and phase II opened earlier this month. It has 271 apartments over approximately 7,000 s.f. of commercial space and is within walking distance of Biscayne Bay. FCI Residential developed the 5-story building to be especially pedestrian-friendly; it features interior interconnected public walkways, widened landscaped sidewalks, a civic plaza, and an abundance of open space. Concurrent with the construction of Palmetto Station, the local governing body Palmetto Bay Village Council approved plans to convert the surrounding area of vacant buildings and warehouses into a formal downtown. Palmetto Station brings luxury living with an urban flair to the newly developing area. It includes a resort-style pool and outdoor cabanas, a Cyber Lounge, a private billiards/gameroom, workout center with a yoga studio, and a children's playroom. PRISM developed multiple exterior view renderings as well as four axonometric views of the various floorplans to help market the community.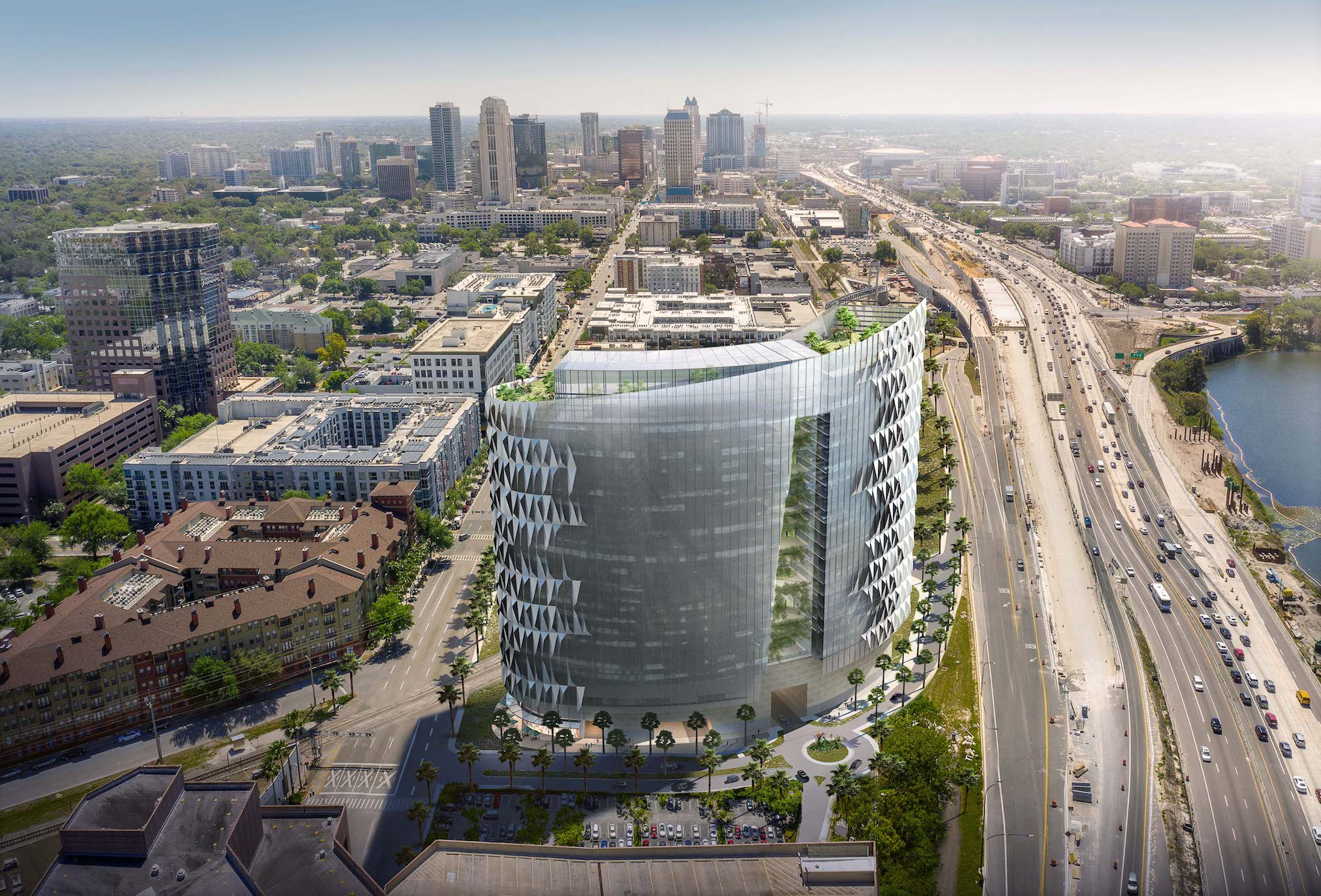 Forget the institutional-looking assisted living facilities of the 20th century. Developer/builder Ponte Health hopes to break ground in early 2020 on a mixed-use high rise medical tower on the northern edge of downtown Orlando. Vertical Medical City is currently designed as three separate towers, with the tallest standing at 35 stories and including 955 senior living units for assisted living, advanced care, and memory care services. The FAA approved the project to be as high as 444 feet; it would be the tallest building to be built in the area in the past 30 years. There will be roughly 10,000 s.f. of ground floor retail and dining, 350,000 s.f. of medical offices, an urgent care center, and a large assisted living facility. Current plans also call for a mechanical, stacked parking system to reduce overall space requirements; the garage will have parking for 601 vehicles. Ponte founder Tabitha Ponte, AIA, ACHA, sees the senior living market as a growth area and is betting on a population that prefers an urban location and the contemporary aesthetic that goes with it. JACOBS Buildings is leading the master planning. Dan Kirby, FAIA, a principal of JACOBS Orlando office said, "we are fully intent in creating what will be the healthiest, most sustainable building possible." Ponte Health is moving forward with a second Vertical Medical City in the heart of downtown Chicago and has future plans to build in London and Osaka. PRISM developed the renderings Ponte Health and Jacobs used to obtain approvals for the project.
Property manager-turned-marketing master Justin Vasilievas is atypical of the clients PRISM usually serves. Justin founded UPCLIK Marketing in 2017 after managing regional marketing for Granite Management Group and Greystar. He also worked in property management for several firms in Chicago and Denver between 2004-2017. Justin's new digital marketing agency merges the power of data with fundamental marketing tactics to effectively target marketing dollars on lead conversion. Our renderings are among the key tools he uses to help his multifamily property manager clients convert prospects into tenants. Justin recently launched a YouTube series, "Property Marketing Minute" to introduce marketing concepts to onsite management teams. Justin says, "I'm an expert that empowers people with knowledge and offers programs with actionable solutions. My method is to empower onsite professionals and make property's dollars work smarter and harder. It's my time to give back to a business that has given me so much and have a little fun." We couldn't agree more, congratulations Justin on the launch of your Monthly Marketing Minute!
As an all-mom team, one of PRISM's core values is Balance, having efficiency between work and personal life with fulfillment in both. Balance is actually the reason PRISM was born. Jing started the business in 2005 when her sons were eight and five years old. She wanted a gratifying professional career and time to care for her children; she envisioned a business model conducive for other working mothers. In 2014, Sarah Amos, a mother of four, joined PRISM as the first employee. Since then, we've welcomed several more moms and provided the platform to further their career development while raising their children. Last month, as PRISM celebrated winning the BBB Award of Excellence for the fourth year in a row, we also saw the benefits of our business approach since our founding 13 years ago. Both Jing's older son and Sarah's son celebrated major milestones. Jing's son graduated from The McCombs School of Business at The University of Texas at Austin. He majored in Supply Chain Management and will be working at the Houston campus of ExxonMobile. Sarah's son graduated from Ft. Benning and received the infantry blue cord, presented to all infantry-qualified U.S. Army soldiers at the end of their Advanced Individual Training. In June he graduated from U.S. Army Airborne School and is now in Pre-RASP, the Ranger Assessment Selection Process, and is hoping to be a candidate for the next cycle starting in July. PRISM's values are not just words on our website. We strive to embody these values at work and in our personal lives, with Balance between the two being key. We always look forward to serving more clients and working on interesting projects. As moms, we are also eager to take an active daily role in our children's growth and development.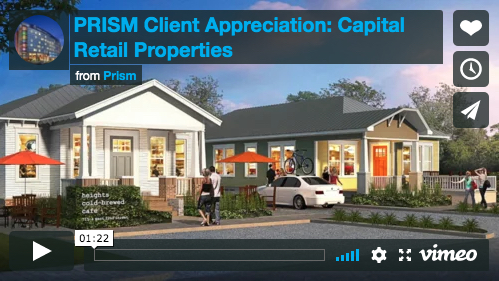 PRISM has worked with growing retail brokerage firm Capital Retail Properties since 2016. Their narrow focus on retail development, marketing, and landlord and tenant representation has resulted in deep relationships with top retail tenant reps and design firms. Capital Retail most recently developed Market at Houston Heights, working with Michael Hsu Office of Architecture to design a distinctly upscale Texas retail center. We look forward to our continued relationship with their team.
More than 500 people attended the HBJ 25th Anniversary Landmark Awards celebration on April 11. From 60 finalists, the jury of local A/E/C professionals selected 19 winners. Projects were recognized for excellence in land planning, design, construction, economics, marketing, and management. PRISM client, Midway Companies, won in the Land Deal category for their work on the H-E-B Upper Kirby project. Congratulations to Midway and all of the 2019 winners. Congratulations also go out to the distinguished Houston architect Jim Furr, FAIA, on his selection as HBJ's Lifetime Achievement Award recipient. Furr was Managing Principal of Gensler's Houston office for 22 of his 48 years as a practicing architect.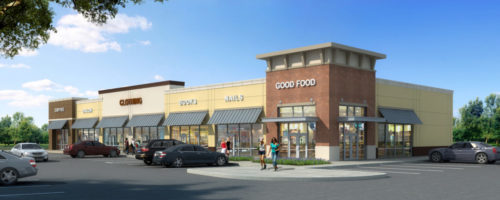 CDA Architects is helping developer Regency Centers bring a curated shopping experience to Magnolia, Texas. The Westwood Village Expansion will primarily serve the Woodforest and The Woodlands communities. Regency Centers specializes in retail centers designed around the communities they serve. This Fresh Look® philosophy combines active Placemaking techniques with robust community engagement and targeted merchandising. The outcome is a thriving retail center with an elevated shopper experience. CDA Architects engaged PRISM for the Westwood Village Expansion rendering. According to CDA Architects President Ray Duerer, the rendering has been invaluable to bring the center's vision and design alive. "The rendering will serve as a springboard into the development of the project, to create a successful environment for business. I was very pleased with the final rendering and quite impressed with the quick turnaround to go from nothing to done in a few short days." The target date for opening is late 2020.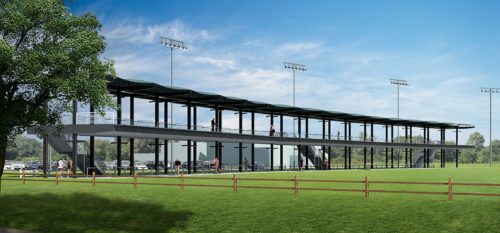 The Houston Astros continue to hit 'em out of the park – Memorial Park, that is. As part of the larger City of Houston Memorial Park Golf Course renovation, the Astros Golf Foundation is funding a new, expanded driving range at the course in addition to funding overall course improvements. The two-level hitting area will have 84 spacious hitting bays, with ample lighting for nighttime use. The project also includes 60 additional new parking spaces for the golf course parking lot. The Astros Golf Foundation participation in the larger Memorial Park course improvements is aimed to help position the course as one of the best in the nation and on the PGA Tour. Construction on the driving range will begin in June and is expected to be complete by early November. The 2019 Houston Open will be held at the Golf Club of Houston in October and will move back to Memorial Park Golf Course in 2020. PRISM worked with Houston architect Robert McKinney to develop the renderings promoting the new driving range. He co-founded the Medalist Golf Association to support the working amateur golfer. McKinney has been a practicing architect for 44 years and has been active in the design community. He is also a published author who has written multiple books on golf clubhouse design.
100% Satisfaction Guaranteed
We strive for exceptional client service with responsive, effective communication and a relationship-centered approach.