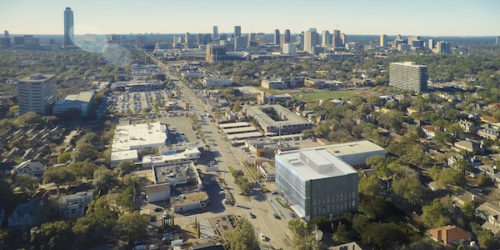 Houston real estate investor and developer Ancorian is adding Healthcare to its project portfolio mix. Construction is underway on the River Oaks Surgical Center, a 130,000 s.f. mixed-use facility inside the Houston loop on Westheimer, at the southern edge of the tony River Oaks neighborhood. Gensler designed the contemporary glass curtain wall building. The project includes 55,000 s.f. of rentable space, with medical offices and a surgery center on the two upper floors, complementary retail services at street level, and three floors of parking integrated in between. Burton Construction is the general contractor. The development is scheduled to open in 2020. Ancorian tapped PRISM to develop renderings for the leasing package and for public relations. The River Oaks Surgical Center is 70% pre-leased, and the anchor tenant is Upper Kirby Surgery Center, a partnership of prominent area specialists. The Ancorian name continues to proliferate around Houston; they are the developer behind the successful East Village project in EaDo.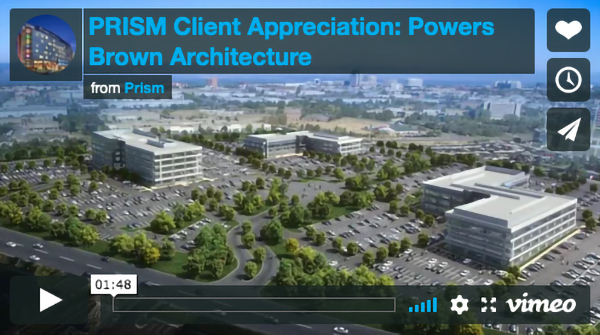 Powers Brown Architecture has risen to prominence from humble roots; their early projects centered on what the firm called 'neglected territory' – project types, construction technologies, and design business strategies ignored by mainstream and vanguard architectural practice. By leveraging the opportunity within every project, the firm has grown considerably since its founding in 1999. Powers Brown has long been an evangelist of tilt-wall construction and is a nationally recognized expert in the delivery method. With this unique perspective, Powers Brown has since developed an extensive and incredibly diverse portfolio, ranging from commercial small smart boxes to working with OMA on the most recent scheme for the adaptive reuse of the massive Houston Central Post Office Building. PRISM has been working with Powers Brown since 2015, helping the firm communicate their project design vision to owners, developers, lenders, and community groups.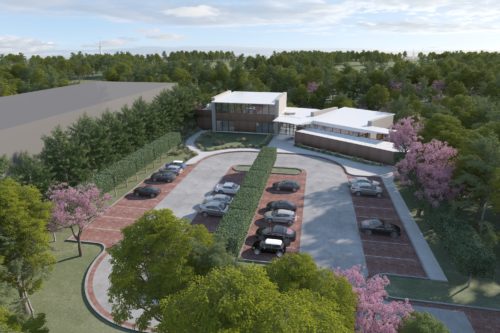 At a max cost of $50,000 for 30 square feet, this plot may not be the best value option, but at least you can say Howard Hughes is in your neighborhood. Houston's beautiful and historic Glenwood Cemetery has some of the most expensive land in the area. The cemetery spans 88 acres along Buffalo Bayou, between Memorial and Washington Ave, and is one of Houston's densest greenspaces outside of Memorial Park. The gently rolling hills are covered with mature hardwoods interspersed with deep ravines that flow to the bayou. It is the resting place for such Houston icons as William P. Hobby, Denton Cooley, Bob McNair, George Hermann, and yes, Howard Hughes. The cemetery has been expanded and upgraded considerably since 1983, when Richard Ambrus became its executive director. In 2018, the Board of Directors approved the latest enhancement, a Family & Visitors Center. Dillon Kyle Architecture designed the 12,000 s.f. gathering place. It will have room for events, research space for genealogists, and staff office space. Most importantly, it will have space for families to gather before and after funerals. Given the cemetery's location adjacent to the new Memorial Park walkways, it is a hidden gem of natural beauty that draws plenty of regular walkers and visitors; it's even become a tourist destination. The center will be a place to welcome all. Fundraising is underway; roughly $7 million of the $15 million construction cost has been raised so far. PRISM worked with Dillon Kyle to complete THIS ANIMATION for the capital campaign. Despite the cemetery's fame and the fact that it is 148 years old, the best news of all may be that there is still enough land within the cemetery for approximately 60 years of inventory.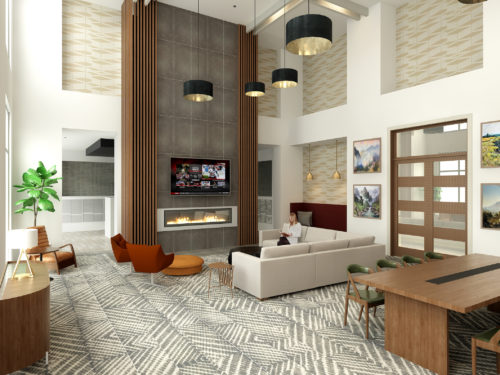 Developer Stillwater Capital is growing its Austin portfolio with two new multifamily projects. One project will be located on the northern edge of the city, in the growing suburb of Leander. The other, The Monroe, is an infill project within Austin's designated opportunity zone of the Riverside area. It is conveniently sited within just a few miles of Austin's Central Business District, downtown, and Bergstrom International Airport. The 4-story complex will wrap around a large, resort-style pool and courtyard with grilling stations. The Class A interiors feature quartz countertops, laminate wood floors, and contemporary finishes. Residents will enjoy the state-of-the-art fitness center, Amazon Hub Package System, and onsite dog park. PRISM worked with the Stillwater Capital team to complete renderings for use in their marketing campaigns. The architect is Steinberg Dickey Collaborative, LLP and interior designer is makrDESIGN.
It's no secret development is heating up in the Greater Northside Management District. With new entertainment venues like White Oak Music Hall, the trendy new Hardy Yards apartment community, and a shout-out from PaperCity as one of Houston's "next hot neighborhoods", the area is sure to see major investment in the coming years. With many thanks to Executive Director Rebecca Reyna and Deputy Director Anibeth Turcios, we were invited to attend the developer's tour last week. Rebecca and Anibeth presented updates on the current business opportunities and future growth. For the first time, a few large lots within the district just came on the market for mixed use development opportunities. The guided tour around the district was such an eye-opening experience. We expect to see many exciting projects coming up in this historic area and we are doing our part to connect our developer clients with the district leadership team.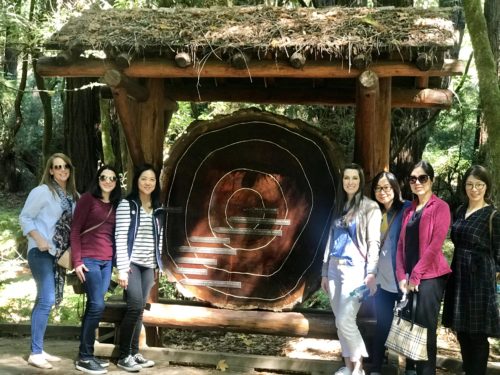 They say time flies when you're having fun. This is absolutely true for us! Fourteen years ago, I started the business for two reasons: 1) filling the need in the market for quality architectural renderings and 2) having both the financial means and a flexible work schedule to raise my two young sons. While reflecting on the journey, I'm amazed by what we've accomplished since our start. A solopreneur business has turned into a team of seven working moms. Our annual capacity grew from a dozen projects to almost 300 projects per year. The number of clients increased from only a handful to hundreds now. Our original clientele of only architects and developers expanded and now includes interior designers, landscape architects, investors, small business owners, brokers, property managers, churches, non-profit organizations, and marketing agencies. We started working on projects only in Texas and now have completed projects throughout the United States and Canada, the Bahamas, Europe, India, and China. I'm extremely thankful to every client who has trusted us over these years. I'm even more appreciative of my team members, who align their personal goals with our company vision every day. Each person has a great attitude and a servant's heart. Daily they exemplify our company's core values by helping our clients and helping each other grow professionally and personally. Without a doubt, it is more fun and fulfilling growing this business alongside these outstanding ladies than by myself! I remain grateful!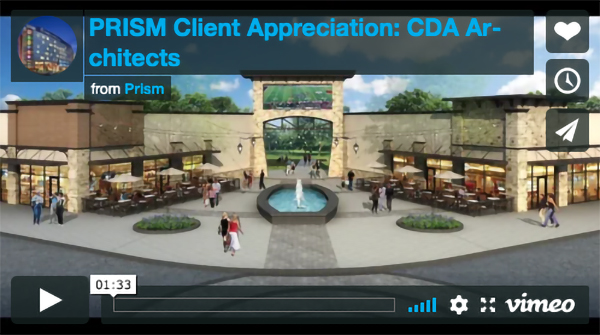 Anyone working in retail development likely knows the name CDA Architects. Over the course of their 45+ year history, the firm has cemented its position as a leading retail designer. Their experience varies from grand scale developments like Valley Ranch Town Center, spanning over 500,000 s.f. and more than 120 stores, to small neighborhood centers that reflect the surrounding community. In addition, their work has expanded to many other industries including Hospitality, Industrial, Education, Medical, and Office Interiors. CDA Architects is dedicated to providing their clients with exceptional quality and exceptional value. PRISM works closely with CDA to develop renderings that help communicate the value proposition in each of their projects, something that CDA understands well and benefits their clients.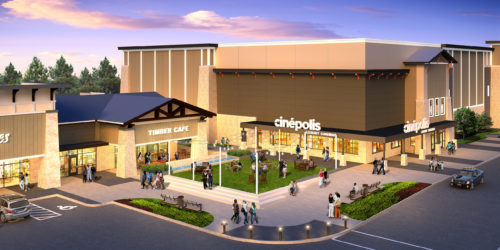 The Woodlands is getting a dine-in cinema. Cinépolis Luxury Cinemas will anchor the new 12-acre Creekside Park West development, part of the larger Village of Creekside Park, developed by The Howard Hughes Corporation. It features Craftsman-style architecture and an outdoor greenspace with fountain-side seating. In addition to the 42,000 s.f. cinema, there will be 30,000 s.f. of upscale retail and restaurant space. PRISM produced renderings for Howard Hughes showing several aerial views of the whole development and a closer exterior view to showcase the architectural styling. Rip Reynolds, V.P. of leasing and commercial land for Howard Hughes, feels that the renderings showing Cinépolis will enhance the overall marketing of the development. Residential construction in the Village of Creekside Park began in 2007; the past few years have seen increased development across the 3,492 acre village. Residential build-out is expected by 2022 and will bring the total number of homes to 7,100. The village is home to the Rob Fleming Park & Aquatic Center, one of the largest parks in The Woodlands. It is also the site for the George Mitchell Nature Preserve, a protected 1,700 acre area that offers many types of outdoor activities.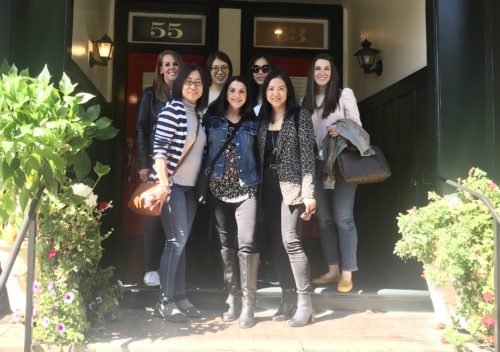 The PRISM team is just back from a whirlwind tour of San Francisco. The annual trip takes our team to different cities; it is part team-building, part client relations, and all fun. Now that we have clients and projects in locations across the country, the trip is a great opportunity to meet clients that we may have only ever communicated with by phone and email. Our tour started as soon as we deplaned at SFO International Airport; our first stop was Terminal 3, Gate 72 to visit our client Briggo's Coffee Haus. We also met with Hall Equities Group, developers of Shadelands Sportsmall in Walnut Creek, where we got to tour their state-of-the-art facility. The Sportsmall will be home to the first Copa Soccer Training Facility, set to open soon. Next, we stopped at the Cadence multifamily project in South San Francisco, by Sares-Regis. We visited the ultra-cool Clubroom that we rendered and toured the rest of the brand new luxury property too! Other fun activities while in this amazing city included Muir Wood's National Monument, Pier 39, a boat ride at dusk, and a BigBus tour. Our taste buds went on tour at some great spots like Ghiradelli, Ashley's Café, Copita Tequileria y comida, and Dumpling Time. We all had such a wonderful time in this fantastic city!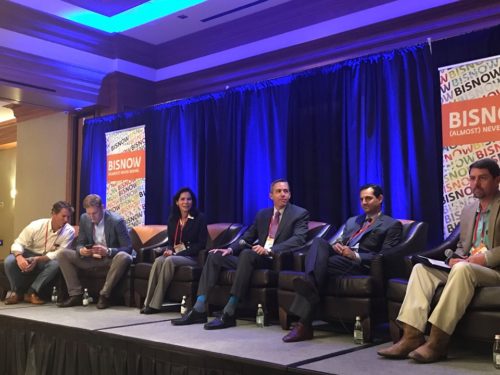 It's happening at parks, multifamily developments, retail locations, and mixed-used projects – placemaking. The general concept is integrating personal experience and connection into the physical surroundings. PRISM attended the recent Bisnow Houston Destination Making event to hear how three different projects accomplished this. Hats off to our clients Ray Duerer with CDA Architects, and Jim Carman with The Howard Hughes Corporation. Both did a superb job for the mixed-use panel. We also learned more about the future renovations planned for Memorial Park. PRISM is honored to have been part of the early phase work, creating the renderings for the new driving range.
100% Satisfaction Guaranteed
We strive for exceptional client service with responsive, effective communication and a relationship-centered approach.