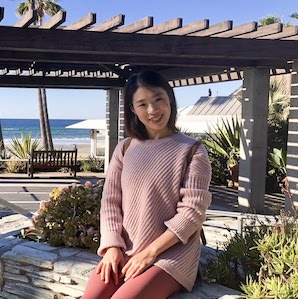 Birthday wishes to our very own project manager, Lily Luo! From a young age, Lily loved design and was interested in how to make cities better places to live. It's so much fun sharing a workspace with you. Thank you for bringing such positive energy and fun to work with you each day. Join us as we say CHEERS to you Lily!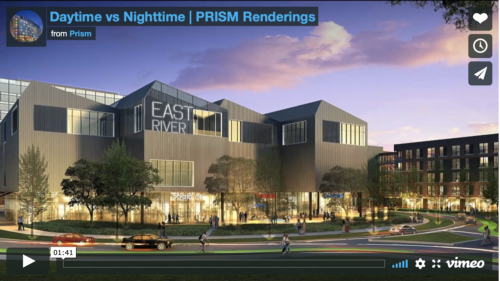 Just like the individual personal preferences of morning people, or night-time enthusiasts, renderings also portray different moods depending on the setting. This is why it's so important for PRISM to understand our client's goals before we begin our work. The building's location and the character of the development are key components on deciding the time of day used. The time setting also determines other rendering details. Activities in and around the building vary throughout the day, as do people's attire. For example, a social club during the day may be full of families splashing in the outdoor pool, but at dusk, it may be adults dressed nicely for cocktail hour. Office spaces are best shown in daylight during typical work hours, but if the office building has ground floor hospitality, an early evening view would better depict the shift in building use during the day. Dusk views also result in a more dramatic image. Incorporating building interior lighting in an evening view gives a glimpse inside the building without creating an entirely separate interior rendering. If a development is being marketed as a landmark destination, an aerial evening view provides perspective on the project's surroundings. Lighting also plays a pivotal role in evening and night-time renderings to make objects in the rendering look more realistic. Whether your team needs renderings for design analysis, project funding, or marketing, PRISM can cover all these details to ensure the final, rendered product meets all your needs.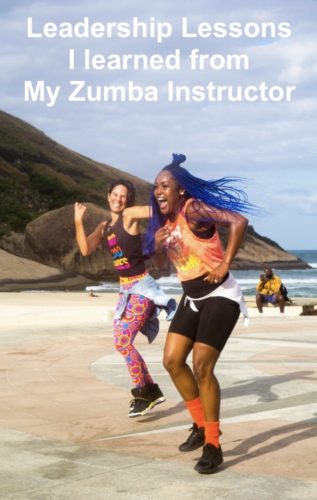 Everyday life can present some of the best leadership lessons. My favorite Zumba instructor, Aline Da Silva, embodies leadership daily and here are some of the lessons I learn from her. Inspiring People As one of the best dancers in Brazil, Aline's passion for Zumba and her amazing skill are truly inspirational. It's contagious and attracts many followers into her classroom and online. Care for Others Aline is always there for us. When our gym was shut down due to the pandemic, she immediately organized free online dancing classes.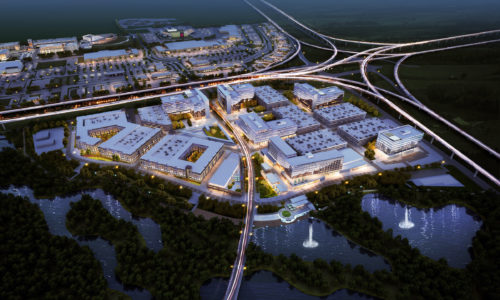 Since its founding in 1994, the Signorelli Company has focused on creating communities in special places throughout the greater Houston area, like Montgomery County. CEO Danny Signorelli, a life-long resident of Montgomery County, noticed the opportunity and need for quality development north of Kingwood. In 1999, the vision to create a vibrant mixed-use community was born when the Signorelli Company acquired the first of eight parcels, creating what we now know as Valley Ranch. The real estate firm's long-term investment philosophy and patience for quality has enabled the 1,400-acre master-planned community to become 'the hub' of growth for the northeast Houston corridor. Today, the Valley Ranch success story offers true live, work, play dynamics within a community Full of Life. Valley Ranch has become a highly desirable location for residents and businesses alike.
It all adds up – you are due to have a perfectly balanced birthday! (we couldn't resist the pun). Best wishes to our Accounting Manager, Amanda Greer, who is SO much more than our financial whiz. She helps keep our business efficient and our clients happy. And she is truly joyful every single day. We're blessed to work with her!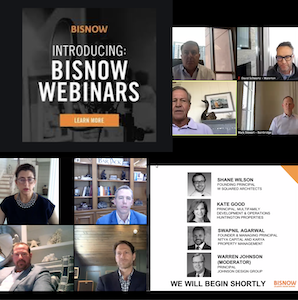 Thanks to Bisnow for continuing their state-of-the-markets programs during the pandemic. We attend the webinars often and appreciate getting expert insight, especially about all the post-COVID unknowns. The recent national Multifamily update had us feeling optimistic. The general consensus we heard from speakers on the Bisnow National Multifamily Update: Available Capital, Post-Pandemic Design & The Future of Multifamily webinar was optimism. Panelists Mark Stewart, CIO of The Bainbridge Companies, ZOM Living President and CEO Greg West, Waterton CEO David Schwartz, Doug Bibby, President of the National Multifamily Housing Council provided their insights on what's working now and what the future holds for multifamily. Amenities they anticipate becoming more popular for residents are larger 1 and 2-bedroom spaces and continued inclusion of co-working spaces. They also see more touchless options such as doors, destination-based elevators, and virtual fitness such as Pelotons and workout mirrors so residents can work out without having to catch an Uber or leave and park somewhere. Virtual tours have been highly effective and liberating for the residents by giving them more of a choice in how much engagement they want with the leasing associate. As Mark Stewart said, the American spirit is strong and nobody is giving up. We agree completely!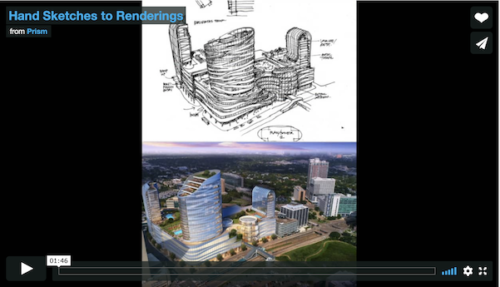 Sketches are one way the vision for a building is translated from the mind's eye onto paper or the computer screen. Such early phase visuals are also hugely beneficial for tentative projects to become reality. Did you know the PRISM team can take even the roughest sketches with no other building documentation and turn them into richly detailed renderings? See examples in the video. Developers, architects, and owners call us in as early as the due diligence and conceptual design phases. Working from a hand drawn or rough SketchUp building sketch, we use our architectural training to work through a series of questions so we can fill in the sketch with the necessary building details. Clients are able to use this level of rendering to secure land, solicit investment/project funding, complete a leasing contract, obtain committee approval, or for marketing/PR purposes. Because many on the PRISM team worked at architectural firms previously, we understand that time is money. We are able to produce the early-phase level of renderings very quickly, because the greater details of the design are not yet as important. By outsourcing early renderings to PRISM, our clients are able to divert that time to other projects that are further along. And since we speak architecture, the collaboration between developer or architect and PRISM is efficient. So why spend more time in-house when you have other deadlines and your staff is already at full capacity? We'd love to see your sketches and help turn your vision into reality!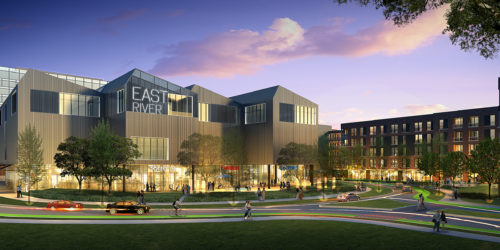 East River developer Midway calls the project "one of the greatest urban redevelopments in a generation." The site, a former KBR campus in Houston's historic Fifth Ward, and the scale, 150 acres with one mile of waterfront along Buffalo Bayou, set it apart as the catalyst for invigorating an all but forgotten quadrant of central Houston sitting north of the bayou and east of I-69. Current plans call for build-out in five phases and include 8.9M sf of Class A office, 500K sf of retail, 1,400+ multifamily units, 475+ single-family homes, 390 hotel rooms, and more than 12 acres of green space. PRISM has been working with Midway since 2017 to develop renderings for the many different views of East River. The development's design focus is on creating a high-quality, walkable mixed-use environment. With such a range of program areas and the strong connection to Buffalo Bayou, East River is poised to become a destination for locals and tourists. The development will also be the new home of the Houston Maritime Education Center and Museum. Page is lead architect, Munoz + Albin is designing the exteriors of the multifamily component and Mayfield and Ragni Studio is designing interiors, and OJB Landscape will provide landscape architecture. The entire site is in a qualified opportunity zone, something Midway hopes will lure companies to East River. No date is set yet for the start of construction.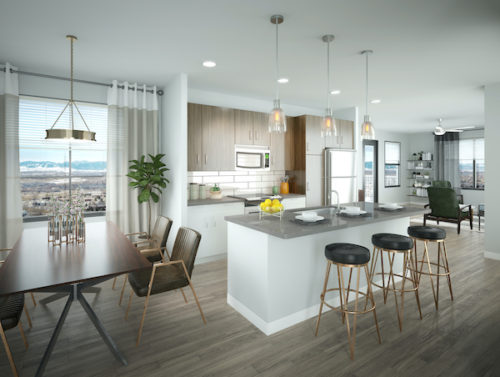 Situated in the quaint town of Lafayette, Colorado, five miles east of Boulder, The Miller is Greystar's newest apartment community. It blends the history of its surroundings with contemporary, trendsetting design. The name pays homage to Lafayette founder Mary Miller, an entrepreneurial and pioneering woman who helped form two local banks, a flour mill, and the town's first school. She subdivided her family ranch and filed the first plat for the land that would become Lafayette, which Miller named after her husband. The Miller has 207 apartment homes ranging from studios to three-bedrooms and amenities such as a fitness center, yoga studio, pool with adjacent indoor/outdoor clubhouse, and two rooftop sky decks. The location may be the biggest amenity; The Miller is in walking distance to many restaurants and breweries, is a short drive to Boulder and Denver, and boasts 20 miles of nearby trails. PRISM produced renderings to help with pre-leasing, which is currently underway. The Miller expects residents to begin moving in at the end of July.
Though we're not able to get out to meet with clients or attend events, we're still Zooming away to keep growing our knowledge and making our team stronger. Vistage is one great resource we've been using for several years. Earlier this month our team attended a video conference by Sherrin Ingram, CEO of International Center for Strategic Planning. She shared many great tools for fostering internal strategy sessions and successful execution. We especially loved her updated take on the classic SWOT analysis, called PowerSWOT, which will definitely help us make more informed decisions.
100% Satisfaction Guaranteed
We strive for exceptional client service with responsive, effective communication and a relationship-centered approach.