During the COVID-19 pandemic more than ever, Out is In™. Houston-based company TAXA Outdoors is relocating to a facility triple the size of their current Heights location. Their new 70,000 s.f. headquarters will be a combo production facility and customer showroom. It comes as the company is ramping up production to meet the growing demand for camping gear. TAXA's unique offering is what they call "camping machines." Founder and CEO Garrett Finney is a former NASA senior architect who worked on the International Space Station's Habitation Module. His designs for TAXA's mobile habitats are a middle ground between tent camping and RVs. They range from a 10-foot trailer with a tent platform to a 19-foot fully enclosed camper with a toilet and shower. PRISM produced renderings for the new corporate headquarters to help TAXA with the space layout; they wanted to maximize customer areas while meeting space needs for production. TAXA also relied on the renderings as part of their media relations and marketing efforts. PRISM suggested creating a mural on the facility façade to bring TAXA higher visibility in the community.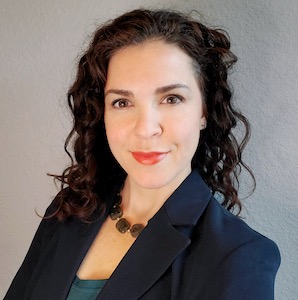 Please help us welcome Jill Solis, the newest team member to join PRISM! As marketing coordinator, she'll be responsible for expanding our marketing efforts and PRISM's value-driven services. Like the rest of us, she is a working mom and has three boys at home. She's an avid outdoor adventurer and is conversant in Spanish.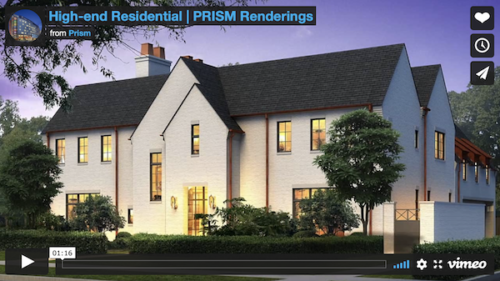 While many sectors struggled through 2020, single and multi-family residential soared. In Houston, home sales saw a 10% increase over 2019 sales. December 2020 was the strongest December on record. What's more, the median price rose 8.7% to an all-time high of $273,443. The average price increased 11.4% to a whopping $347,164, setting yet another record. PRISM has been working increasingly with custom home builders, luxury residential architects, interior designers, and realtors. Our renderings and animations have proven to be a valuable marketing and sales tool for this niche, allowing the sales process to begin even before construction starts. Renderings provide ultimate flexibility to show the impact different finishes and fixtures have on aesthetics. In higher price point areas, realtors are also using renderings to demonstrate possible façade enhancements of existing homes to prospective buyers. As interest rates remain low, HAR reports pending sales are strong. January has been another month of heavy market activity, with people continuing to spend more time at home. This video demonstrates PRISM's recent work and creative approach to assisting clients in the high-end residential sector.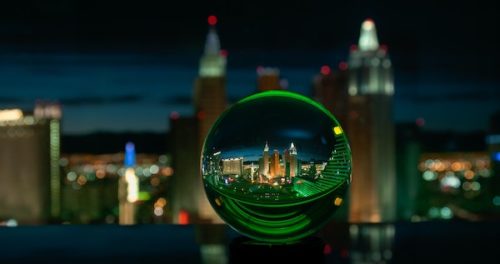 Real estate researchers across the U.S. seem united in their 2021 forecast: it all depends on COVID. The pivoting and "new normal" many sectors experienced in 2020 will continue as the vaccine rolls out and efficacy is evident. A new President with different health and environmental platforms, along with increased revenues and spending agendas, will shift demand in different sectors. Top national highlights of the 2021 forecast include: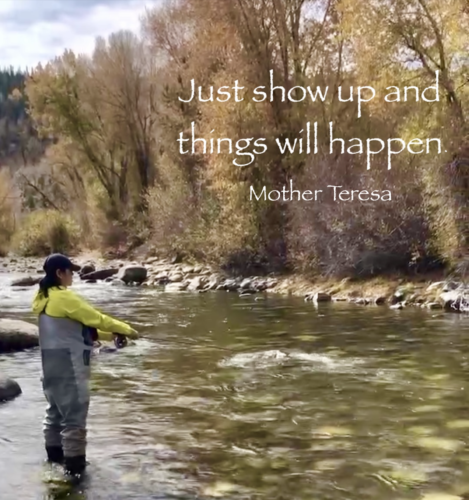 Our family's first fly-fishing trip in Colorado last fall was exciting and memorable.
We learned the process and techniques from our pro-fly-fishing guides. I truly enjoyed casting the fly for hours, surrounded by the Aspen trees' vibrant fall colors and the clear mountain runoff stream, despite I caught ZERO rainbow trout! Getting in the casting action while immersing myself in the solitude of nature is way more valuable than the result.This incredible experience was validated by the marketing icon Seth Golden's recent interview in a leadership podcast. Golden pointed out that obsessing with outcomes can be toxic and short-term. Continuing to SHOW UP and follow a process is far more critical. After all, the outcomes are the results of the process. To prove his point, he talked about his own fly-fishing experience which he even removed the hook from the fly to "disconnect with the outcome" and enjoy the process. In this new year, remember to Show Up every day and follow a proven process of your business. The outcomes will happen as the result. Wishing you all a fabulous journey in 2021!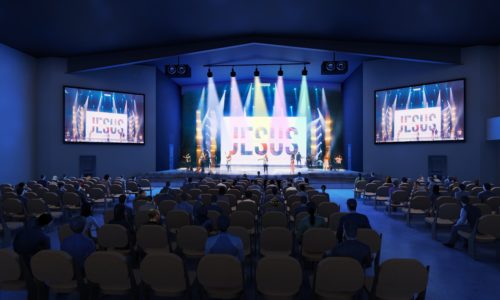 On December 6, Church of the King opened for its first service in Katy, TX. The campus is four miles west of the Grand Parkway and ready to serve the explosive population growth in the area. Martin Needle, AIA, of COLLABORATE Architects designed the church working directly with Pastor Jason Robinson, who started the church after 20 years of student ministry in the New Orleans area. PRISM supported the team with several interior and exterior renderings that were used to share the church's vision with the community. For the past four years, Church of the King has been using a local junior high space to worship. Their "It's Time" capital campaign raised the necessary funds to build the 21,500 s.f. new campus. Despite opening the new campus during the coronavirus pandemic, in a community video, Pastor Jason provided an encouraging message of how the congregation and their new home will persevere, "The message of hope has endured, the message of hope is undefeated in everything it has ever faced."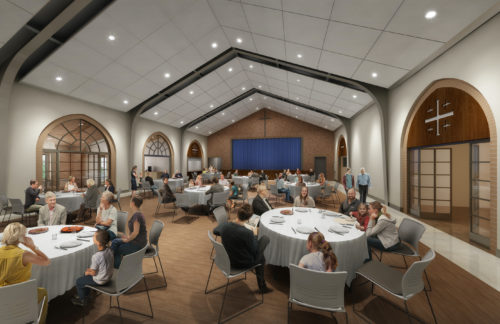 Regular services began at Calvary Episcopal Church in Richmond in 1857, making it one of the oldest Episcopal churches in Texas. The original sanctuary was destroyed by a hurricane; the first building built on the current site was constructed in 1952 and serves today as the Parish Hall. Merriman Holt Powell Architects is working with the church to restore and make long-overdue upgrades to this vital space, along with the Solarium, and restrooms. The stained-glass windows placed strategically throughout the sanctuary distinguished the original design and continue to do so today. Foster Stained Glass and the church are working together on this restoration effort. PRISM Renderings produced several renderings for the fundraising effort, and in June the church announced their plans to move forward with the planned renovations.
How about a stroll down a quaint, festive Main Street to get into the holiday spirit? Second Baptist Church Cypress annually transforms their lobby into a small-town winter wonderland for the Christmas season. This year, Jing and her husband Warren designed two of the facades used in the festive scene. Rather than a traditional holiday model train display, Second Baptist Cypress puts visitors right in the middle of the action, offering a stroll through a homey and snowy Main Street. Sites along the way include a Town Hall, Gift Shop, Bank, General Store, Café/Barber Shop, and a Candy Store. Jing and Warren designed facades for the Bank and Gift Shop, and Warren provided hand sketches to bring each to life – a new twist on bringing another type of vision to reality! It took more than a dozen volunteers two weekends and some extra evenings to construct the full Main Street. Visitors are welcome to visit and enjoy the display, and join in safely-spaced Christmas Eve services as we celebrate the birth of our savior, Jesus Christ.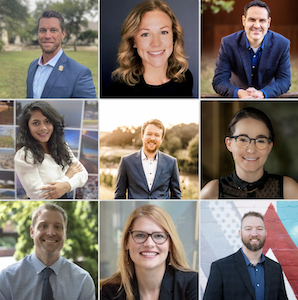 For the sixth time, ENR Texas & Louisiana magazine invited Jing to help judge the incoming 20 Under 40 Class. Of 69 entries submitted, the most of any ENR region, jurors picked the young professionals based on industry experience, career and leadership, and community service and involvement. View the article with winners or see below. Blake Axen, project manager, BGE, Inc. Bryan Carruthers, CEO, Anser Advisory LLC Cory Delz, executive vice president, Embree Construction Group Dedra A. Ecklund, project manager, Lockwood, Andrews & Newnam Inc. Dennis M. Hymel, Jr., senior project manager, T. Baker Smith, LLC Eric Hudson, partner,

This year, more than any other since PRISM started, we are grateful to our clients, partners, and the PRISM team for all we were able to achieve amidst the ongoing uncertainty:
Brought on Lily Luo as Project Manager in January 2020.
Participated in the annual Dress for Success Send One Suit (S.O.S.) clothing drive. Dress for Success is a national organization with a mission to empower women to achieve economic independence by providing a network of support, professional attire, and the development tools to help women thrive in work and in life.
Celebrated our 15-year anniversary on October 11.
Stayed busy working on local, national and international projects, thanks to our current clients and many generous referrals. To date we have completed more than 160 total projects, for over 80 clients, and worked with 32 new clients. Our work spanned the U.S. and Bahamas.
Completed the EntreLeadership Summit program as a team and gained practical takeaways and implementations.
Enrolled three team members in the Vistage Emerging Leader program.
Thrived through Covid! Despite the challenges Covid brought, we celebrated all successes both big and small. We connected with clients through Zoom and deepened our knowledge of other media platforms. Our team found new ways to be more efficient and became more deliberate in maintaining connections to one another.
100% Satisfaction Guaranteed
We strive for exceptional client service with responsive, effective communication and a relationship-centered approach.