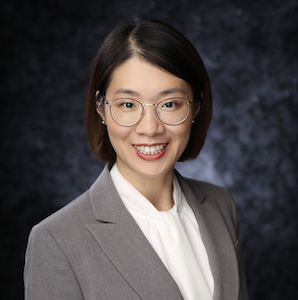 Please help us welcome our newest team member! Lily Luo joins PRISM as a project manager, responsible for overseeing all aspects of project delivery. She'll be working directly with clients to understand their requirements and direct the work of our Chinese production staff through project completion. As PRISM's only trained landscape architect, Lily brings a unique perspective to our team. Read all about Lily's background here.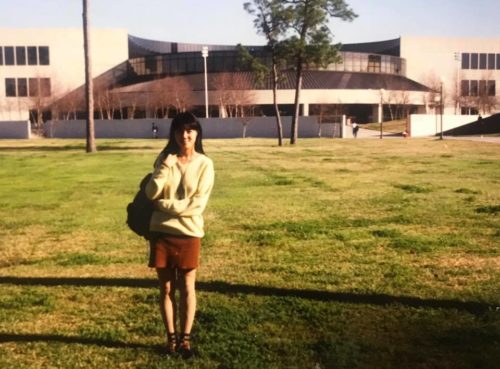 "I can only dream as far as I can see... And when I get there, I can always see farther." - Anonymous January 8th is a very special date for me. On that day 27 years ago, at the age of 27, I came to the United States from China to attend graduate school. That special day represented a new dream, a new journey, and a new life. Since then every January 8th, I reflect on my journey with a deep sense of contentment and gratefulness. I'm grateful to the people who helped me along the way, and I'm grateful for the opportunities that have allowed me to learn and grow each day. I'm grateful for the good fortune of becoming an entrepreneur to work with people I love and serve the clients I respect. I am still full of dreams, grateful to have gotten to where I am now and hopeful to see even farther.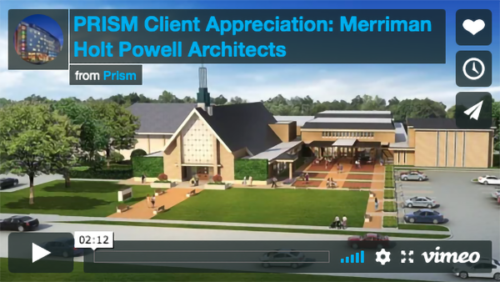 Houston firm Merriman Holt Powell Architects is widely recognized for its deep portfolio of church projects. Yet the firm's diverse body of work can also be seen across the region, ranging from the Houston Racquet Club to the ArtsNow headquarters and the Missouri Region/Fort Bend Branch Library. PRISM began working with Merriman Holt Powell in 2015 on the Crime Stoppers "Dave Ward" Headquarters building. Since then we've assisted the firm on many of their liturgical projects, and we always appreciate that they use their same thoughtful, cooperative design process with us as with their clients. We are so thankful to work with such a well-respected and talented firm.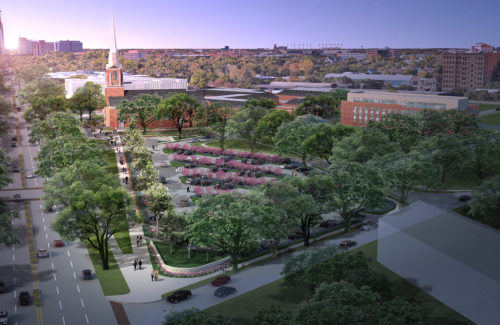 First Presbyterian Church of Houston is said to have been the first Church established in Houston in 1839. In 1948, the congregation moved to their current campus, located in the heart of Houston's Museum District. Since that time, the congregation has grown to over 3,000 members. The Church's current, far-reaching capital campaign will fund several new spaces and improvements across the campus, expand evangelism efforts, add technology innovations, increase and rearrange surface parking, and invest in staff development. The project includes exterior connections to the Museum's new Glassell School of Art and their new Nancy and Rich Kinder exhibition building, reconfiguration of parking lots and pedestrian walkways to optimize arrival experiences, a new fellowship space with an attached outdoor gathering area, and renovating various spaces for Children and Family Ministries. Gabriel Architects is leading the design, and commissioned PRISM to develop several renderings for the capital campaign. Scott Slaney of Terrain Studio is leading landscape design for the completely reimagined exterior environment. Construction is scheduled to commence in early 2020 to coincide with the completion of the Museum's new Kinder exhibition building on the south edge of the Church. These improvements will position the Church for continued growth on their prestigious site.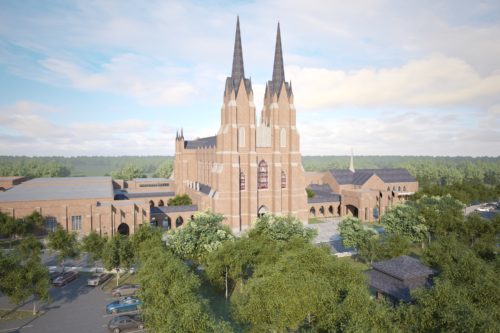 The largest Episcopal church in the United States is right here in Houston. And it's getting bigger. St. Martin's Episcopal Church broke ground earlier this year on a $55 million expansion on its campus in the affluent Tanglewood area. Jackson and Ryan Architects designed the new buildings, which include a 900-seat Parish Life Center; it will host the church's popular contemporary services and events like concerts and speakers. Other new buildings include Children's Ministry, Music, and a Pastoral Care Center. The existing 1959 church building is being renovated into Christ Chapel, a smaller 250-seat sanctuary for baptisms, funerals, weddings, and other services. Construction started earlier in 2019 and is expected to be completed in the Fall of 2020. Tellepsen Builders is the general contractor, and also built the majority of buildings on the campus, including the original sanctuary.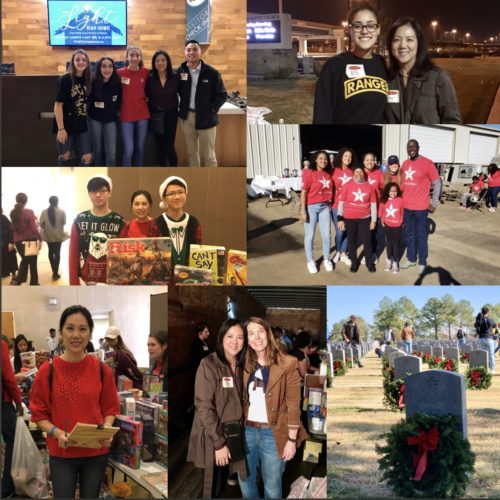 During this time of Advent as we prepare for Christmas, several PRISM families were out in the community to serve others. Angels of Light is a cherished Second Baptist Church family tradition held across all six campuses. Jing's family and several of the PRISM member's families volunteered at the Cypress campus event. Angels of Light 2019 served 7,603 angels and their families from the inner-city and surrounding communities with a dinner, show, gifts, and groceries to needy families. Sarah's family also participated in Wreaths Across America - Houston, with the group Impact A Hero, at Houston National Cemetery. They placed Remembrance wreaths on the graves of veterans who have served and sacrificed so much. Vivian's family volunteered in the Fort Bend community at Santa's Exchange/Toys for Tots which provides toys to more than 5,000 children. And Tracy's family poured back into their local church by helping with the Preschoolers, greeting and directing traffic so those in the community could enjoy a wonderful Christmas concert this holiday season. We've all cherished this time with our families, amid the frenzy of holiday activities, and remember even the Son of Man came not to be served, but to serve others.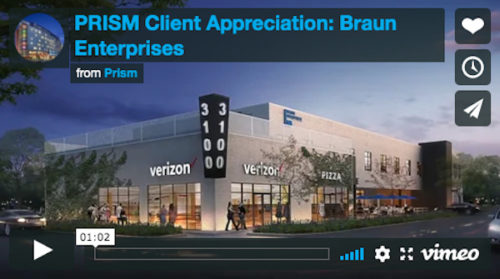 Braun Enterprises has built a thriving business on this contrarian approach. The developer started out in 1989 by acquiring and repositioning light industrial properties and leasing them to stabilization. They shifted their focus in 2009 and targeted distressed properties, expanding from Houston into Austin and San Antonio. In 2013, Braun began focusing on inner-city locations prime for development, thereby revitalizing neighborhoods along the way. Since 2013, the firm has repositioned over 50 properties in Houston's inner loop, home to such renowned names as Torchy's, Prohibition, and Killen's.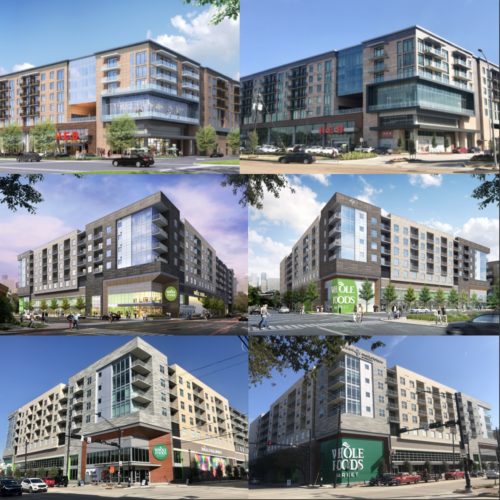 Visiting built projects is another way we are both thankful and humbled by the work we do for clients. We are entrusted with bringing the project vision to life through our renderings and animations, sometimes years before the first bit of dirt is turned. As often as possible, we visit projects once completed to see how the vision came to fruition. Every project has an élan vital, whether it's the materiality of the interiors, the entrance approach, or the site context – something is the designer's intentional driving force, the heart of the building. We love to see how well we captured it! Here is a look at the vision vs. reality of two recent projects that got a lot of attention in our city, Buffalo Heights and Pearl Marketplace at Midtown, by developers Midway Companies and The Morgan Group respectively.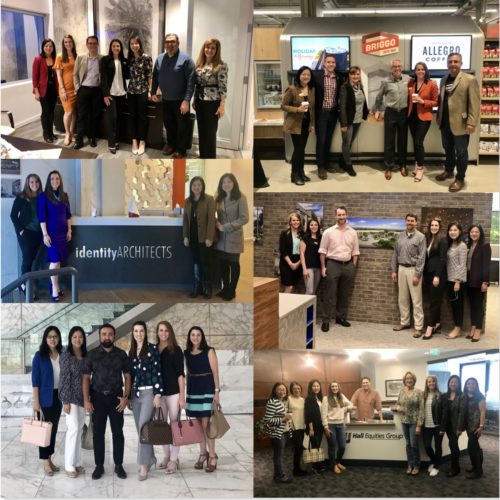 This year we hit the road to visit our clients and we plan to do even more in the future. It's one of the ways we thank our clients for their business. We love to meet the teams we work with and see first-hand their beautifully designed offices, experience the team dynamics, and have a candid conversation about what's going on in their world and how they are making a difference. It's also a great way for us to better understand clients' goals when working with us. We recently stopped to see CDA Architects, The Hanover Company, W Partnership, Hall Equities Group, Briggo, and Identity Architects. Thanks to all for welcoming us!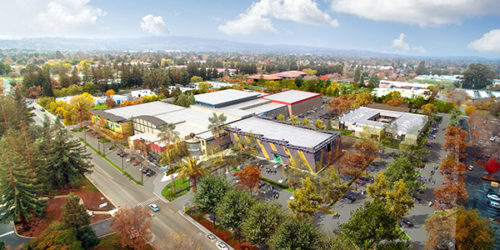 It might resemble your local shopping mall, but you won't find clothing boutiques or a food court at Shadelands Sportsmall. This 215,000 sq. ft sports training super center just east of Berkeley, California is home to a variety of premier sports programs housed under the same roof. Hall Equities Group developed and manages the Shadelands SportsMall. The philosophy is to co-locate sports programs in a facility large enough for each program to have its own space to focus on their sport-specific fundamentals and provide complementary services that benefit all programs. The sports offerings include soccer, basketball, gymnastics and dance, swimming, baseball, volleyball, taekwondo, yoga, strength training, and speed/running and agility development. Phase I of Shadelands, a basketball fieldhouse, opened in 2016. PRISM worked with Hall Equities Group to produce renderings and an animation for Phase II, anchored by a 100,000 sq. ft COPA Soccer Training Center complete with expansive fitness and performance areas. Other tenants will include Encore Gymnastics, American Swim Academy, Mike Murphy Baseball, Vibe Volleyball, Sparta Taekwondo, Raga Yoga, and Genius Juicery.
100% Satisfaction Guaranteed
We strive for exceptional client service with responsive, effective communication and a relationship-centered approach.