You likely remember the line from Field of Dreams, "If you build it, he will come." Church congregations often stake their hopes on this belief when undertaking capital campaigns, hoping for both the Heavenly Spirit and a larger congregation. Whether it's a new facility or completely new campus, a renovation or expansion, communicating the cost of the project in relatable terms is a critical factor for success. Many congregations will go through only one capital campaign per generation of membership. This is compounded by the fact that very few congregants have any architecture or construction knowledge. Fundraising amounts in the thousands can feel as overwhelming as amounts in the millions. Yet uniting a congregation around a common goal can build the momentum and inspiration needed for success.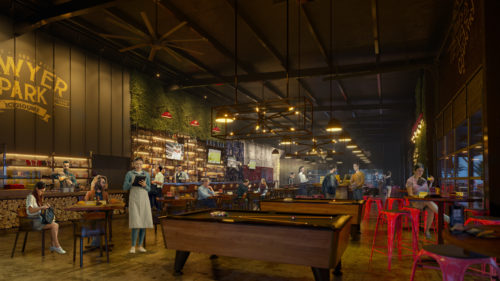 Goodbye Pepto-Bismol pink, hello urban rustic. Sawyer Park Icehouse is the reincarnation of the bright pink building many remember just west of I-45 off the Rayford/Sawdust exit. Amber Slaughter, Principal and Creative Director, at STUDIO a28 tasked PRISM with creating renderings to showcase her vision and the client's dream for the new watering hole. Construction is underway; Sawyer Park Icehouse is expected to open in early 2021. It will include a full bar with extensive Texas local beers and spirits, indoor gaming area with billiards and darts, a long wall of garage-style doors opening to a deep covered patio, and a large outdoor green kid and dog-friendly space that will draw in their patrons. It is also planned to be a local destination for live music, with an upgraded sound system and both indoor and outdoor stage areas. STUDIO a28 incorporated warm rustic materials and colors to give Sawyer Park Icehouse a welcoming, urban Texas-Country aesthetic. The founders of the popular Woodson's Local Tap + Kitchen are also the founders of Sawyer Park Icehouse. Best friends Todd Weaver, Adam Lee, and Ben Locher started their restaurant success in 2013 and quickly opened a second location. Sawyer Park Icehouse will feature a similar, yet unique Southern-inspired menu.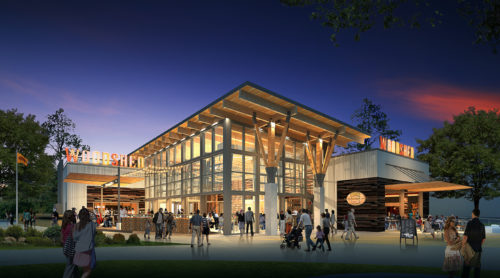 Houston has endless options for fantastic food. You know this. Even U.S News & World Report knows it, ranking the city #10 on its list of Best U.S. Foodie Cities. So why not mix things up this season of Thanksgiving and have something other than turkey with all the trimmings? Whether dining out or getting takeout, eateries across the city could use all the community support they can get to help keep their doors open. One high profile chef has been waiting to open concepts in Houston. Dallas-based Tim Love made local news in 2018 with the announcements of three brand new eateries, all in Levy Park. PRISM produced the renderings to help promote barbeque joint Woodshed Smokehouse and burger bar Love Shack. Side Dough is Love's third concept; it is a retrofitted double-decker bus that serves breakfast food like pastries and breakfast tacos all day. Love welcomed his first customers earlier this year – on March 12th. Though forced to provide limited service due to COVID restrictions, the restaurants welcomed customers back in early September for dining in. Side Dough is all outdoor seating, and Woodshed and Love Shack both have ample outdoor seating along with indoor dining. Who's hungry??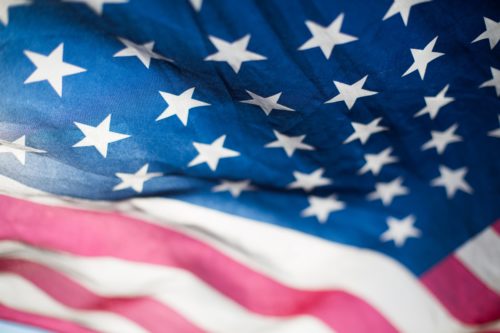 In 1919, President Wilson proclaimed November 11 as the first commemoration of Armistice Day, celebrating the end of World War I. Legislation approved on June 1, 1954 marked November 11 as the day of annual honor for American veterans of all wars, and President Eisenhower issued the first Veterans Day proclamation in October of that year. In 1966, the Armed Services YMCA and the U.S. government established November as Military Family Month. The observance honors enlisted service members around the world and their families. Military family members provide the behind-the-scenes support needed from all those actively serving in the Armed Forces. THANK YOU to our clients and friends who have served or have a family member serving!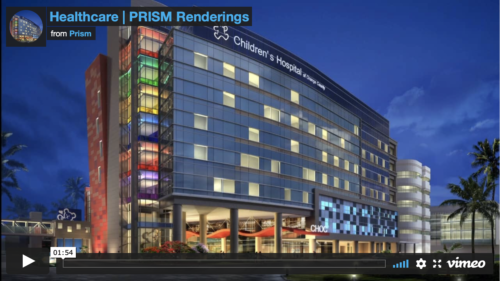 Healthcare facilities have been in the news a lot this year. Beyond the issue of capacity, the pandemic has forced providers to quickly adapt to service model changes. Telemedicine has proven to be effective for primary care. Alternate testing sites like pharmacies are increasing. Nonphysicians such as nurses, nurse practitioners, and physician assistants are playing a larger role in care, especially in rural areas. And even as the industry is facing the challenges of rapid evolution, the AIA Consensus Construction Forecast is projecting healthcare to be one of only two sectors with positive growth in 2021; the Forecast is expecting a 3.2% increase in spending on healthcare and a 2.5% increase on public safety. PRISM has worked directly with hospital systems, developers, and privately-owned care centers to produce a wide range of renderings and animations. Clients come to us to assist in the early project phases, producing renderings for fundraising campaigns, marketing and promotional materials, and the overall patient experience. We also help project teams work through design options for renovations and updates, using our renderings to illustrate the spatial layout. Our clients also use renderings for campus orientation and wayfinding. This video spotlights a small portion of our healthcare portfolio.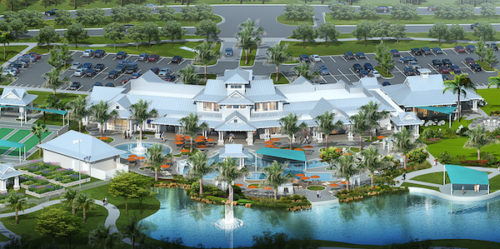 Developer Del E. Webb is credited as a founding father of the active adult community concept. His belief that retirees should be able to live in a self-sustaining community with access to any amenity they would want led to the creation of Sun City in Surprise, Arizona. The community opened in 1960 and grew to include 26,000 homes over the 18-year build-out. Del Webb continues to lead the sector with 59 communities currently open for sale in 20 states and is one of the six national homebuilding brands of PulteGroup. PRISM worked with architect STG Design to provide an animation and renderings for the new Del Webb Bexley age-restricted community in Land O' Lakes, Florida, just north of Tampa. Bexley will have six different home collections to cater to residents' lifestyle preferences. Homes start at $254,990 and range from two to five bedrooms. The community boasts extensive resident amenities such as a large clubhouse, community garden, tennis and bocce courts, dog park, resort-style pool, amphitheater, and a full-time Lifestyle Director. Bexley incorporates several new ideas into Del Webb's concept of what active adults are now seeking in a community. Floor plans will include flex space like lofts; such space can be used as a home office for residents still working, or for multi-generational households that may need to accommodate aging parents or children. Bexley is strategically located in suburban Tampa, with ample dining and entertainment options within five miles. New homes in Bexley also include smart home technology and some are highly energy-efficient, with HERS scores of 59 and higher. PRISM's renderings and animation are tools instrumental in pre-sales for the community.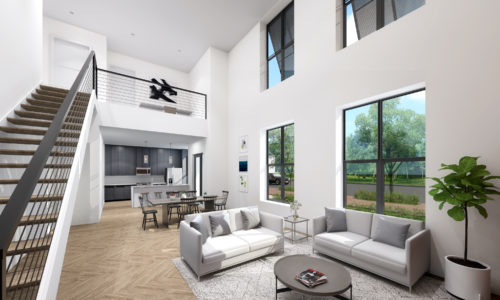 As The Woodlands award-winning master planned community continues to grow, The Howard Hughes Corporation® is ensuring viable housing options for residents. The Lane at Waterway is Howard Hughes newest multifamily community, located adjacent to The Woodlands Waterway and in close proximity to Waterway Square® with shopping, dining, and entertainment. It will offer 163 new residents, a mix of apartments and townhomes for rent with direct street access. The units will average 1,100 square feet and have one, two and three bedroom floorplans. The property features a co-working space, clubroom, state of the art fitness center along with an elevated outdoor courtyard. PRISM continues our long relationship with Howard Hughes and developed the renderings for project preleasing and promotion.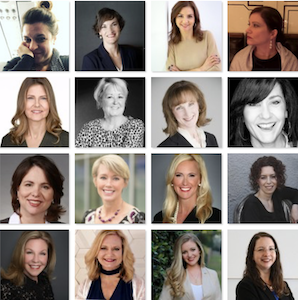 It's National Women's Small Business Month! We acknowledge all the women living their passions through their businesses. A 2019 report found nearly 13 million woman-owned businesses in the U.S. employ 9.4 million people and generate $1.9 TRILLION in sales. Way to go ladies! Check out the list of some of our woman-owned business partners.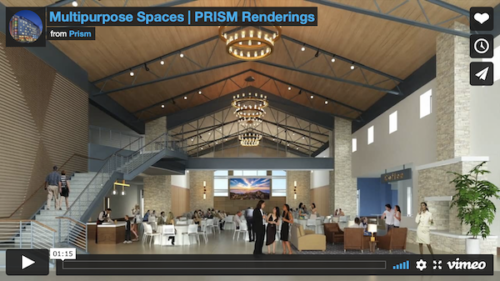 The possibility of emptiness is something many people have a hard time envisioning. Here's another way renderings can bring ideas to life. Multipurpose rooms are common in many types of buildings, from schools to hotels. The physical enclosure of the room – walls, ceiling, doors, and windows – stays the same, but what is happening inside the room can vary considerably. PRISM has worked on many types of projects, showing our clients the different ways one room can serve many functions as seen in the video above. For example, a small fellowship hall in a church could be set up for either a banquet, a meeting, or a smaller church service. A school multipurpose room might need to accommodate kids' open play, a graduation ceremony, or a dance. PRISM renders the base room with one specific use. We can then provide additional views of the base room with modified uses, at a reduced fee. The service has been especially helpful for our clients running capital campaigns, to show potential donors the flexibility of the building. Modified-use renderings are also useful for our developer clients who want to communicate the various build-out options within a building shell, to either obtain project funding or for pre-leasing. We were also called in to provide renderings for a local unused sports facility that has been considered for redevelopment as an events facility, as part of the project proposal process. When faced with a big space of nothing, PRISM will be happy to help you see the possibilities!

PRISM celebrated a milestone on October 11, our 15-year anniversary. Crystal is the traditional gift for the 15-year anniversary, representing the clear and sparkling love between husband and wife. It is fitting for PRISM too. Our President Jing Johnson started PRISM based on the need she saw for quality project visualizations while working at various architecture firms. It's the defining vision that defines our work still today. We cherish and thank the clients who have trusted us over the years. It is an honor and privilege to work with you and bring your visions to life. You are the reason we have been able to attain this milestone. Your work inspires us every day. We look forward to continuing to provide you with the high-quality visualizations that help you win projects, procure funding, pre-lease facilities, secure approvals, and help you evaluate your designs. Without our dedicated team and their supportive families, we also would not be the company we are today. Their commitment to our vision, values, and the success of our clients, has allowed us to create a dedicated, best-in-class team! And to the many partners who have helped us throughout this journey, you have our gratitude and respect for the expertise you've shared with us. Cheers to the next 15 years!
100% Satisfaction Guaranteed
We strive for exceptional client service with responsive, effective communication and a relationship-centered approach.