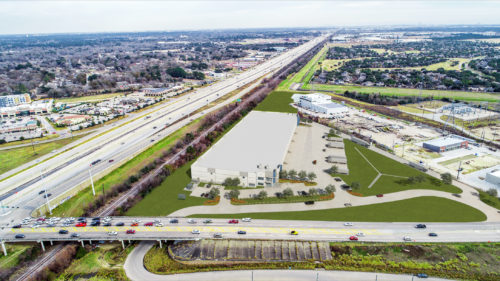 The U.S. industrial market posted its strongest quarter on record in Q4 2020 as E-commerce drove retail sales throughout the pandemic, increasing demand for industrial space. Occupier demand resulted in 264.7 million SF of new construction completions last year while industrial vacancies remained low at 4.6%. 2021 is looking just as strong, and developers are busy looking for high-growth areas to position new industrial projects. Molto Properties snagged a highly visible site on the 290 corridor for their new Barker Cypress Distribution Center. The 142,100 SF center has easy ingress and egress and is being developed speculatively. It includes 3,574 of office space, 32 dock-high doors and two drive-in doors, 32' internal clear heights in a space that is divisible to 60,000 SF. Seeberger Architecture designed the building, working closely with Chad Parrish, Principal and director of Molto's Houston office. Together the firms decided to bring in PRISM to produce an aerial view rendering that would be incorporated in the leasing package to clearly show the property's vision and visibility from US Highway 290. Brokerage firm Boyd Commercial is handling the leasing.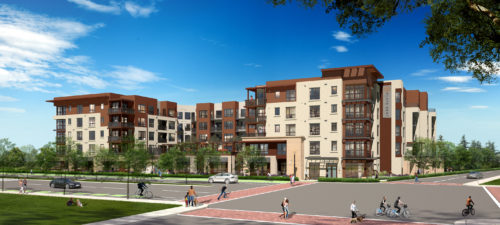 As the housing inventory in Silicon Valley remains ultra-low and prices astronomically high, multifamily developers are betting on new amenity-rich live/work/play centers. Sares Regis Group of Northern California is one of the developers behind the successful new CityLine Sunnyvale neighborhood located just north of San Jose. The 36-acre mixed-use development includes offices, shops, restaurants, apartment homes, and ample green space. CityLine Sunnyvale is the first mixed-use development in Silicon Valley with a pending Fitwel® Community Certification. Phase I has been an overwhelming success, with market rate and affordable housing and notable anchors like an AMC Dine-In theatre and Whole Foods Market. Sares Regis asked PRISM to produce renderings for their newest addition to the development, Flats West. The new 5-story apartment community will offer a true indoor-outdoor living experience just steps away from historic Murphy Avenue, a Caltrain station, and vibrant Downtown Sunnyvale. Opening is expected in summer 2021. Flats West boasts a walkable, bikeable, and vibrant downtown neighborhood with access to everything residents want and need. This high-end living provides an attractive alternative to single-family homes; Zillow reports the typical home value in Sunnyvale is $1.78 million! Flats West floorplans are thoughtfully designed with a contemporary layout in studio, 1-, 2-, and 3-bedroom options. Each unit boasts features such as keyless entry, smart touch features, oversized balconies, breathtaking westward mountain views and more, making them the ideal place to live and work. Amenities are shared across the adjacent community at The Flats complex, giving residents access to a wide range of options from fitness, entertainment, business, and recreation for families and pets.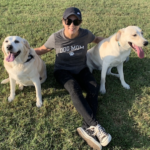 Teamwork doesn't automatically happen. It's having a shared purpose and commitment. It is also having mutual respect and trust in those around you. In the 15 years since Jing Johnson started PRISM, our team has morphed in size and makeup. But the constant has been Jing. She is an unfailing source of inspiration and models what it means to be a servant leader. From all of us at PRISM, happiest of birthdays to you Jing!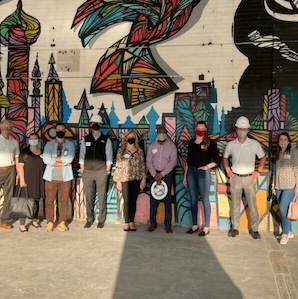 Thanks to ULI for the recent tour of POST HTX. Deborah Gross joined the group to walk the project, currently in construction. The overhaul of this historic and massive building on Buffalo Bayou is sure to reshape the northern bank of the Bayou. The 500,000 SF project will have chef-driven restaurants, shops, and offices. Live Nation just announced they will open a concert venue in the development.
Did you wish the planet well last week on Earth Day? The Earth Day 2021 theme, Restore Our Earth, is half call-to-action and half optimism. During the past year, with a global pandemic and climate-induced catastrophes like a ferocious hurricane season and raging wildfires, Mother Earth can use some restoration right now. Architects are stepping up to the challenge. Since that first Earth Day in 1970, AIA members began mobilizing around the topic of energy and early research into efficiency. The AIA Energy Committee was founded in 1973. Its work caught the attention of the Carter campaign, which incorporated some of the language in their Democratic platform. Carter went on to create what became the U.S. Department of Energy, which funded energy-focused building research. The AIA Energy Committee morphed over the following decades and in 1990 became the AIA Committee on the Environment (AIA/COTE). COTE is now leading the charge to achieve climate action and climate justice through design. The mission states in part, "We believe that design excellence is the foundation of a healthy, sustainable, and equitable future." COTE annually recognizes the top ten buildings that demonstrate design excellence and advancement in environmental performance. The 2021 winners each represent achievements in zero-carbon, resiliency, equitability, and overall health for occupants.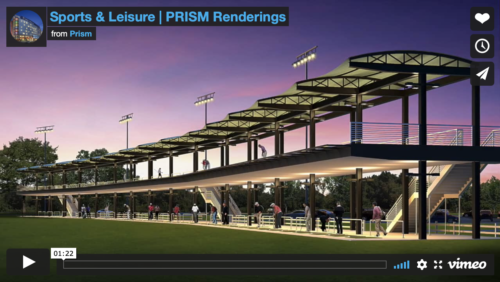 A famous quote from "Father of the National Parks" John Muir goes, "the mountains are calling, and I must go." It epitomizes his zeal for the outdoors, along with his passion for preservation. People around the world felt this call when COVID-19 restrictions closed all indoor gathering spaces. As spring rolls into summer, we celebrate both the natural and created environments that nurture and feed our wellbeing. Indeed, the very concept of leisure is an important aspect of overall wellness. Therapists classify leisure into five domains – physical, social, emotional/psychological, mental/cognitive, and spiritual. Engaging in activities is helpful to maintain a sense of balance. PRISM clients have long recognized the benefits of leisure and have used renderings to promote their projects in several ways. Renderings and animations are a vital tool in capital campaigns to communicate the breadth and depth of the project. The same goes for community awareness campaigns when residents want to have a sense of connection to projects happening in their own backyard. Renderings are also helpful to obtain municipal approval, assuring proper use of public funds. What mountains are calling you?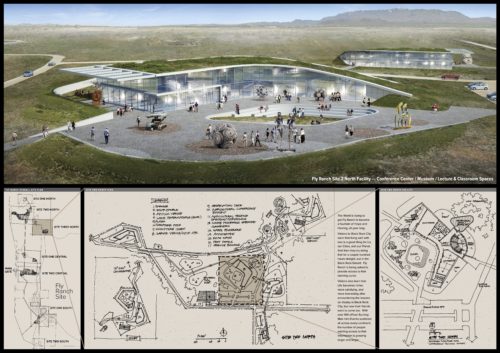 Fly Ranch is the site of Black Rock City, the oldest and largest Burning Man celebration in the world. Land Art Generator Initiative, (LAGI), an international biennial design competition and the Burning Man Project partnered to hold a multi-disciplinary design challenge that would create the foundational infrastructure of the Fly Ranch. Developer, artist, and futurist Ty Eckley of KCTC, Inc. tapped PRISM to join a team submitting on the LAGI 2020 Fly Ranch competition. Architect Warren Johnson of Johnson Design Group, and graphic designer Phil Schmitt also contributed to this unique and exciting pursuit. The contest timeline was six months, with four months added due to the pandemic. Our team made a late decision to enter and had two weeks to compile an entry. The team's intention to enter the contest was not about winning, but about creating a solution honoring the Burning Man spirit and practical enough to provide permanent event infrastructure for the next 50 years. The team treated this as an experiment to explore the long-term, net-zero design possibilities of a facility dropped into an inhospitable desert environment. Every August, Black Rock City is briefly home to 70,000 people in northern Nevada, gathering to celebrate Burning Man. In 1997, Black Rock City moved to Fly Ranch, a 3,800-acre property just north of the event site. Over the following 20 years, people imagined building a permanent home for Burning Man's temporary community at Fly Ranch. As Burning Man embarks on a 2030 plan to make the annual event at Black Rock City sustainable, Fly Ranch will serve an important role in that effort. Fly Ranch's unique geological features include dozens of hot and cold springs, three geysers, hundreds of acres of wetlands, dozens of animal species, and more than 100 types of plants. The land has a 10,000+ year history of stewardship by the Numu (Northern Paiute) and Newe (Western Shoshone) people. On the festival site, Burning Man brings together many diverse visions and skills. The culture is notable for: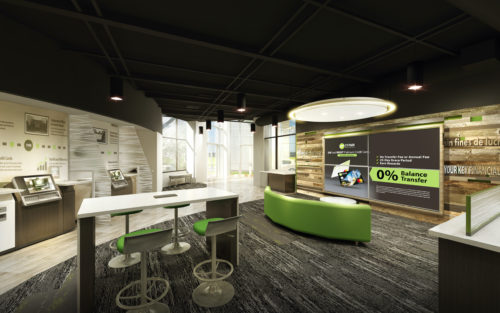 Part bank, part business center, and all customer-centric, the new Cy-Fair Federal Credit Union (FCU) Administrative Offices and Financial Center in northwest Houston is designed to meet the technologically advanced ways consumers bank today. This reimagined center is the result of an extensive overhaul of an existing branch location. It also indicates the greater lengths banks are going to serve their communities and the broader national economy. PRISM worked with MG Architects to produce several interior and exterior renderings. Inside, the customer experience begins with a Hospitality Counter offering drinks and pastries, and a Technology Bar with wireless charging and a high-definition video wall. New Interactive Teller Machines (ITMs) have large video screens to connect members to associates in real-time and virtually face-to-face. Private consultation rooms are available for individualized services and a commercial member desk is dedicated to business customers. The back office areas feature open plan workstations, a consolidated call center for general calls and ITM services, and expanded training rooms. The updated exterior features a 3-story lightwell displaying the Cy-Fair FCU branding. Projects such as this demonstrate the vital role community banks play. Past Chair of the Federal Reserve Ben Bernanke cites these small financial institutions as critical economic engines. Local banks typically have close ties to the surrounding community and a better understanding of their needs than national banks. "Such lending helps foster the economy by allowing businesses to buy new equipment, add workers, or sign contracts for increased trade or services. Those effects are felt at a local level and may appear at first glance to be fairly modest, but when you multiply these effects across the thousands of community banks in the United States, you really see how the lending decisions they make help the broader national economy," Bernanke reported to a trade publication.
This month, PRISM was invited to attend the 2021 Mandala World Business Conference. The weekend consisted of a motorcoach tour of their property in Wellington, Florida, the future home to a revolutionary new learning academy. Dr. George Hutchinson, Founder/CEO of the Mandala World Academy, shared his vision for the global K-12 platform and was an extraordinary host. Jessica Jemison-Williams, Dean of Education, delivered a scholarly segment on the teaching and learning systems and the various academies being offered at Mandala World Academy: Equestrian Academy, Neuroscience Technology Academy, Fine & Performing Arts Academy, Agriculture Academy, Bio-Architecture Academy, and a Bio-Energy Academy. Our team was honored to be invited to participate in the conference and play a role in the life-changing vision Dr. Hutchinson has cast.
It was a full three days, but while in Florida, the PRISM team also visited our client MSA Architects, Inc. at their office in Miami. We began working with MSA back in 2014 on their project, Pearl Flagler Village, located in Fort Lauderdale; Morgan Group, a Houston-based leader in upscale multifamily development, led the project. We took pictures of the completed 350-unit apartment community. Laureat, another premier high-rise in Fort Lauderdale by developer Greystar, stands tall near iconic Las Olas Boulevard and was another stop during our visit. PRISM worked with the award-winning team at MSA to produce renderings for both new developments and many others throughout Florida.
100% Satisfaction Guaranteed
We strive for exceptional client service with responsive, effective communication and a relationship-centered approach.