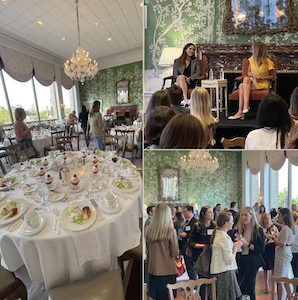 Urban Land Institute (ULI) is the oldest and largest network of cross-disciplinary real estate and land use experts in the world. If that's not reason enough to participate, their ability to foster one-on-one connections with real estate leaders is. Deborah recently attended the ULI Houston Dinner & Dialogue event, hosted by the ULI Women's Leadership Initiative. The program featured Miriam Wheeler, a partner and managing director at Goldman Sachs. She provided candid, inspirational, and insightful comments about her career and how real estate is changing.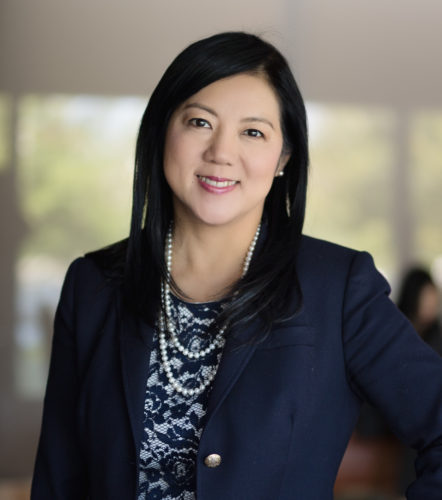 I'm so honored to have been chosen as one of the 36 scholars in Houston for the Goldman Sachs 10,000 Small Business program this fall. The program consists of nine modules and three clinics to deep dive into our businesses. At the end of the three-month program, I'll complete and present my business growth plan; a strategic and tactical implementation roadmap to guide my business forward based on specific growth opportunities. Goldman Sachs 10,000 Small Businesses is a condensed program to help entrepreneurs create jobs and economic opportunities by providing greater access to practical business education, access to capital, and a supportive network of Advisors and Peers. I'm excited to learn from my cohort's faculty and other business owners. I'm confident this program will help me take PRISM to new heights. Let the journey begin!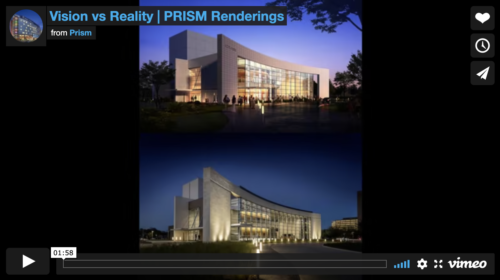 If vision is the art of seeing what is invisible to others, then renderings are a manifestation of that vision. Studies show that 65% of the population is visual learners. Further, 90% of information transmitted to the brain is visual. This is what makes renderings an invaluable tool to showcase the vision behind every project our clients undertake. We at PRISM have the opportunity to work with many visionaries. These professionals come from diverse backgrounds. They are developers, architects, interior designers, building owners, real estate brokers, and engineers. The commonality among them is their passion for making positive contributions to the built environment. For some, the vision is fully developed. For others, the vision is in its infancy and still taking shape. Whether clients come to us with plans and supporting documents, or just rough sketches and inspiration photos, we get to turn the invisible idea into something photorealistic, almost tangible. This video compares PRISM renderings to the final built project. We are so proud to be a tiny part of every project we're asked to do. And we are also extremely proud of our skilled team, who ensure every detail brings our clients' visions to life, just as they imagined.
Morgan Group is riding the demand wave for apartments in Houston; they plan to open another of their luxury Pearl product in early 2023. Construction is underway on Pearl Rosemont, located on the western edge of Midtown. ApartmentData.com reported in their September report occupancy rates of 91.7%, the highest rate in over two years. Rents are also rising at the fastest pace in years. In keeping with the Pearl brand "live well" experience, Pearl Rosemont will feature luxury finishes, distinct amenities, high energy efficiency, and a walker-friendly neighborhood. Morgan is also going bigger at Pearl Rosemont with 13 stories, to take advantage of surrounding views to downtown and Uptown. The site is at the corner of Albany and Dennis Streets and surrounded primarily by single family homes. PRISM worked with Haven Design Studio to produce interior renderings the project. This is the # Pearl project PRISM has worked on. Pearl Rosemont will have 298 units, each with a balcony, and total 258,000 s.f. Architect Ziegler Cooper created an aqua lounge, a covered common area adjacent to the resort-style pool and outdoor kitchen on the fifth floor. There is also a platinum fitness center with a private workout studio, dog washing stations, and an in-house Stockwell mini-store. There are 427 parking spaces on the first floor levels of Pearl Rosemont, with nine levels of residential space above. This puts all units above the tree line with exceptional views to the downtown Houston skyline.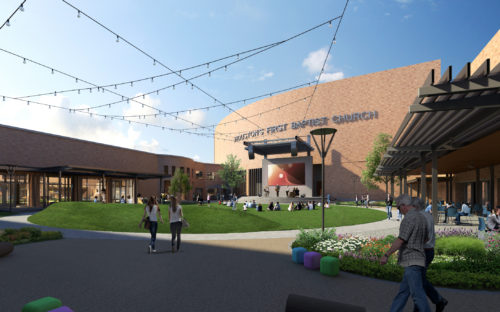 The Lawn at the Loop will provide an outdoor oasis right in the heart of Houston. This renovated area in Houston's First Baptist Church is designed to promote many types of fellowship in the open air. The 23,300sf outdoor courtyard sits within the main campus on the southwest corner of the I-10/610 interchange.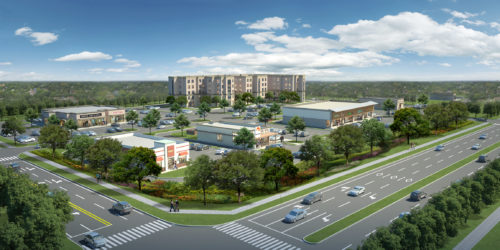 Educated, young people are moving to Austin's far suburbs and bringing their higher-than-average incomes with them. Real estate firm Rockspring is ready to serve them. The developer has been busy courting national quick-service restaurant chains and retailers to fill their new mixed-use property, Stonewall Crossing. The development is in Liberty Hill, a burgeoning city 30 miles north of Austin and eight miles north of Leander, rated the fastest growing large city (defined as a population of 50,000+) by the U.S. Census report in 2019. Stonewall Crossing broke ground in July and already has several quick-service restaurants (QSRs) under contract as well as Auto Zone and a Circle K convenience retailer. This project includes two buildings that front Texas Hwy 29; pads range in size from 0.75 acres to 2.89 acres. LA Architects, Inc. commissioned PRISM to produce renderings to help market the development. The favorable Liberty Hill demographics made the development a no-brainer for Rockspring to pursue. The median city age is 34.2 years and median family income is $73,125. Matt Powell, economic development director for the City of Liberty Hill, is leveraging the flurry of new development around the city to bring in more employers. "People are keenly aware that in our ETJ (jurisdiction) we have in the neighborhood of 40,000 people with competitive educations and incomes. Retailers are looking for that. We don't dictate market forces, but what we can do is actively recruit businesses that will raise the quality of life and create primary jobs for Liberty Hill," he told the Liberty Hill Independent newspaper.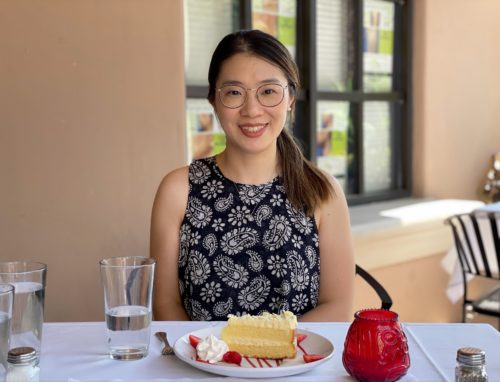 This month we toasted project manager Xuemei "Lily" Luo on her birthday. Our resident yogi and the only landscape architect on our team is always a calming ray of sunshine for the rest of us. Cheers to you Lily and best wishes for a blessed year ahead!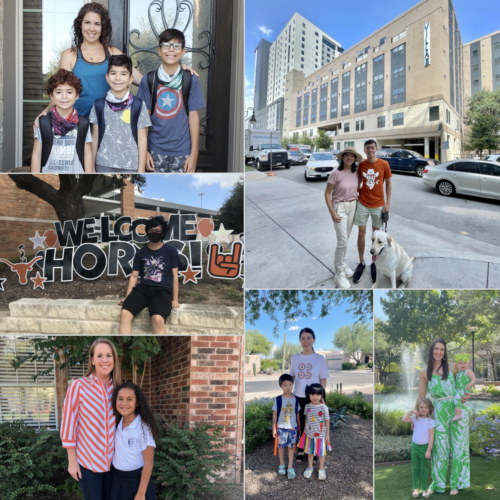 Between the PRISM team, we have 23 kids, ranging in age from 15 months to 24 years. It's the bittersweet time of year when we send them back to school. Here's a look at the most important pieces of our hearts, ready to do great things in the academic year ahead!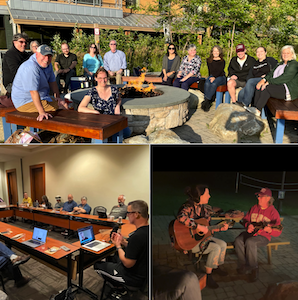 The average size of AIA member firms is 11. And 26% of members are sole practitioners. Entrepreneur Architect (EntreArchitect) is the world's largest online community for these small firms. The group started daily Facebook Live sessions a few weeks into the pandemic. Last week we met in person! EntreArchitect founder Mark Lepage and Jeff Echols, Director of Brand Strategy, started the Facebook Live group sessions to unite the community of small firms during the pandemic. Called Context and Clarity, the sessions focused on helping architects define their brand and build or refine their marketing strategy. I have been active in the group for over two years. Along with architects from nine states, I attended the first Context and Clarity live event in Jay, Vermont. EntreArchitect has had such a positive impact on many small practices, meeting in person strengthened the bonds. Meeting three of my mastermind group members (after having weekly Zoom meetings for over a year) was a highlight! Over our weekend together we had many topic discussions along with fireside music performances and chats, picnic lunch, and dinners. Our shared experiences of struggles and successes as small business owners helped each other see new perspectives. I, for one, hope this incredible experience will grow into a new tradition for the EntreArchitect community! Please email me at This email address is being protected from spambots. You need JavaScript enabled to view it. or call 281-799-4800 if you'd like to learn more about this group.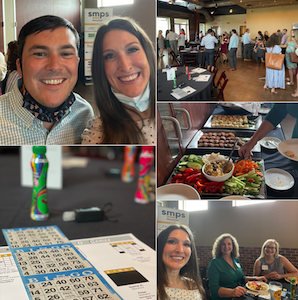 Part competition, part networking, part celebration, and ALL fun, Deborah just attended the SMPS Houston BINGO night. Sure there were cash prizes, but this fun group really gathered for some great networking and to celebrate the chapter's recent win. SMPS Houston was selected for the Outstanding Extra Large Chapter Pivot & Focus Award.
100% Satisfaction Guaranteed
We strive for exceptional client service with responsive, effective communication and a relationship-centered approach.