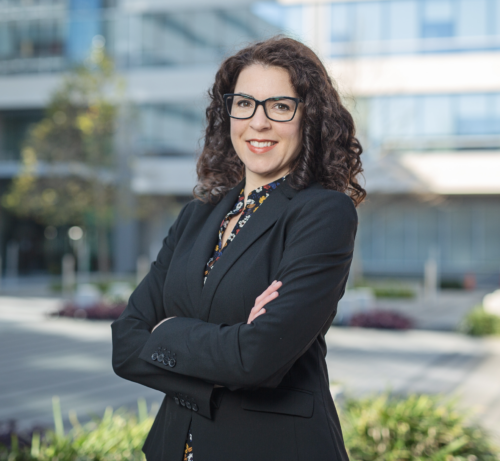 Happy 1st anniversary to our multi-talented marketer Jill Solis. She dove in headfirst to learn everything about architecture, development, and construction and we are better for her efforts. Thank you for your constant motivation and willingness to push us forward.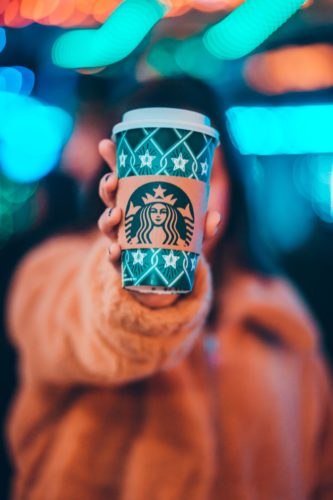 Starbucks is on us! What do you want to see and read in our newsletter this year? The first 20 people to email Jing or Deborah with their input will receive a $10 Starbucks card. We'd really appreciate it if you would give us some feedback and help us add more value to our readers. Emails below: This email address is being protected from spambots. You need JavaScript enabled to view it. This email address is being protected from spambots. You need JavaScript enabled to view it.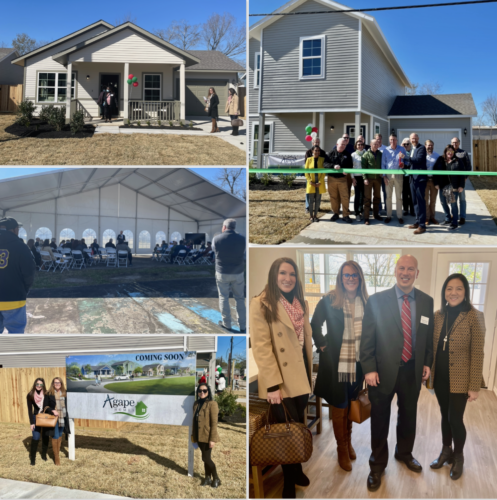 Agape Development and Agape Homes CDC held a ribbon-cutting ceremony this past weekend to celebrate the completion of their first eight homes, located in the neighborhood south of the University of Houston called OST/South Union. PRISM is beyond blessed to be part of this life-giving project. Learn more about this project: https://new.prismrenderings.com/homes-for-all/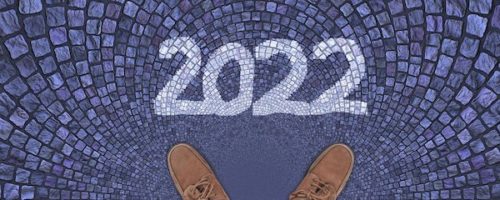 Financial analysts are split on their predictions about the 2022 economy. Fluctuation in supply chain bottlenecks and staffing issues, along with lingering COVID concerns, have only raised uncertainty. Prognosticators in real estate, design, and construction all see a positive year ahead. The AIA Consensus Construction Forecast has a generally positive outlook, predicting an increase in construction spending due to pent-up demand. Their estimate is a 4.6% increase in non-residential construction, with health care facilities expected to be the strongest performing sector, with a 1.4% increase. Across other sectors, industrial will likely lead the charge again in growth. The huge spike in shipping transportation costs will have companies looking for more warehousing space. Multifamily will be the contender for growth, with a projected capital investment of $234 billion. The lingering questions about how to bring employees back into the office will remain. Lease transactions are rebounding but office vacancy is expected to hit its highest level since 1993, due to 53M s.f. of new office construction hitting the market. Retail, and especially grocery-anchored centers, are expected to be strong this year due to the expected 20% growth in grocery-based e-commerce. Credit to CBRE for market data. All eyes will be intently monitoring spending under the Infrastructure Investment and Jobs Act. The $550 billion earmarked is spread across several major initiatives, ranging from public transit projects to climate resiliency projects. The Houston Ship Channel is already a big winner under the Act, recently receiving $142.5 million to deepen and widen the critical container channel.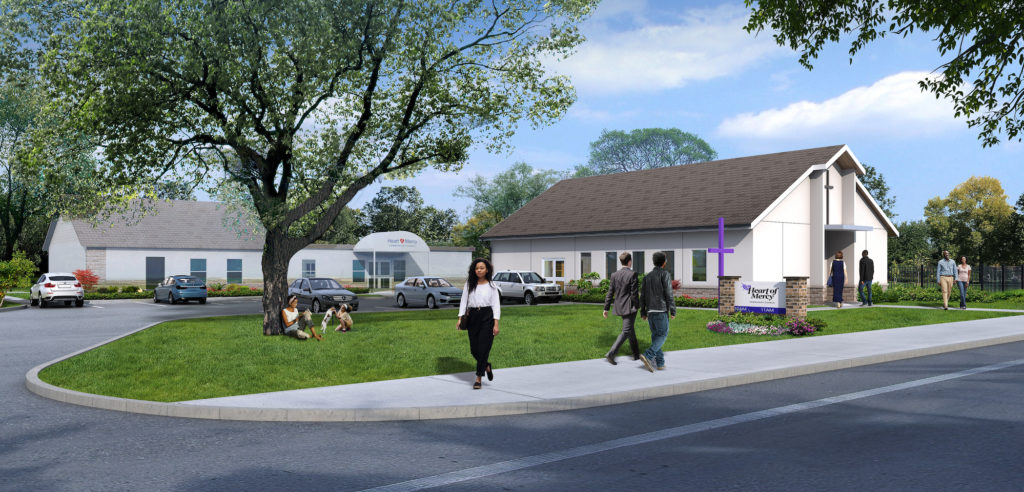 One of PRISM's newest clients, McCree General Contractors & Architects of Orlando, FL, has two significant projects underway. We are honored to be part of the fundraising effort for two new churches the firm designed and will be building. Just west of Orlando, Winter Garden, FL, sits on the shores of Lake Apopka. This small suburb is home to one of the oldest Lutheran churches in Florida, the Zion Evangelical Lutheran Church. The congregation began as a home church in 1885. By 1891, the church had grown and started a small school. During World War I, "Lutheran" became synonymous with "German" and Zion Church was targeted for hate crimes and was vandalized. The church remained true to their mission. Over the decades, the church grew and shrank, reorganized, and adopted the new slogan, "God's Truth for You." Zion Evangelical Lutheran Church is in growth mode again. PRISM developed renderings for their fundraising campaign for a new building. At a modest 9,125 s.f., it will house an altar, nave, narthex, and fellowship/bible study area. Construction will start in 2022. Stewart Neilson is the designer and Tom F. Griffin is the architect, both of McCree General Contractors & Architects. The same firm designed another small community church, the Heart of Mercy Church in Orlando, FL. The 2,400 s.f building is a new sanctuary and fellowship hall. It is currently in fundraising, using the rendering from PRISM to communicate the church vision and help with donations. Heart of Mercy Church is relatively new, opening in 2003. Their mission is clear, to offer a place for the children and families of the community to be the people God created them to be. Impactful is how we'd describe both of these projects. They both hold great opportunities for the people they will serve in the communities where they will be located.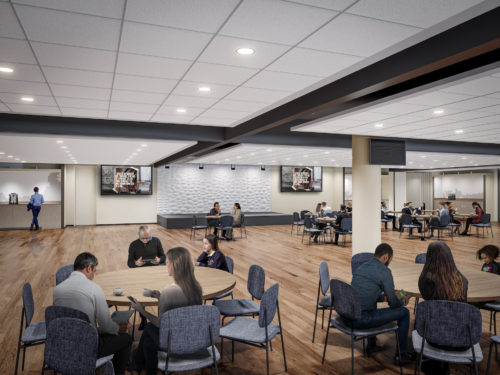 Not so small but just as impactful, Houston's First Baptist Church is underway on several improvement projects included as part of a larger fundraising initiative at the main campus, The Loop. Architect Merriman Holt Powell engaged PRISM to do renderings of the various areas to be renovated. With many different groups active at any one time within the church, the staff wanted the flexibility to divide the Fellowship Hall into smaller spaces. The renovated 7,900 s.f. space will be reconfigured with operable walls so it can be used as four different rooms or one large open space. New finishes throughout are included. Demolition of the existing Fellowship is underway. The renovated space will be ready to welcome new visitors in early 2022.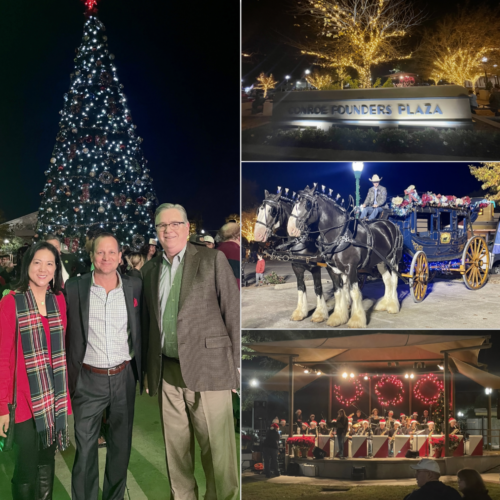 Ann Landers said that opportunities are usually disguised as hard work, so most people don't recognize them. Jing Johnson has never shied away from hard work. Maybe that's why so many opportunities seem to come her way. Congratulations on her latest achievement – graduation from the Goldman Sachs 10,000 Small Businesses program! After 14 weeks of intensive classes, group meetings, 1-on-1 discussions, and so many late-night study sessions, Jing graduated with the Goldman Sachs 10,000 Small Business Cohort 31 earlier in December. The immersive program is designed to help small business owners develop, assess, and implement their growth opportunities and create more jobs in the marketplace. Jing worked alongside a very diverse and accomplished group of local business owners from all walks of life with businesses of all shapes and sizes. The passion and drive of the extraordinary business owners was contagious and inspiring! It's not surprising that Jing's cohort members selected her as one of the co-ambassadors to serve the group as they continue their growth journey.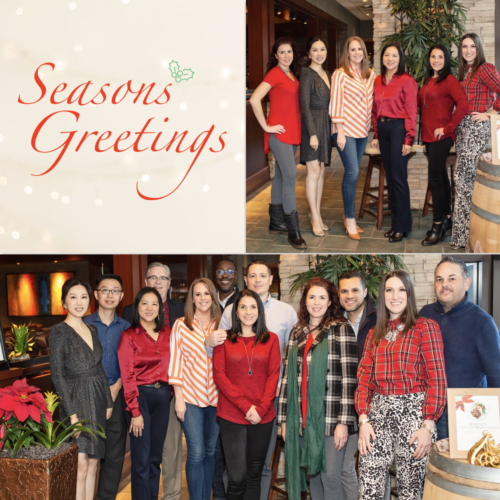 It's not all work here! The full PRISM team, along with their spouses, met earlier this month for a celebratory lunch. We celebrated the season of course, but recognized the support we each get from home. Thank you to our families!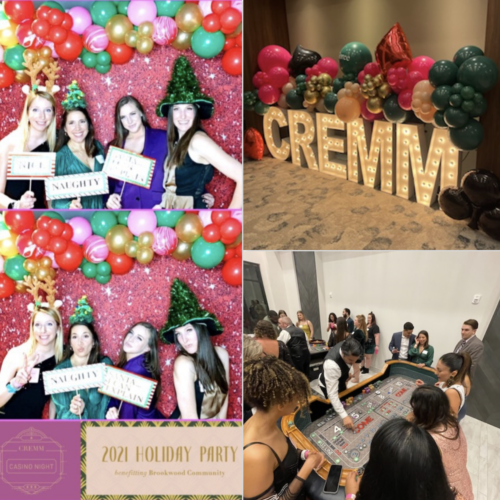 CREMM, the organization for young female real estate pros, recently held their holiday party. And WOW, what a night! PRISM's Deborah Gross attended the casino-night-themed event. Ladies and gents alike savored every detail. The fabulous food, gaming tables, live music, and jovial atmosphere made it the party of the year!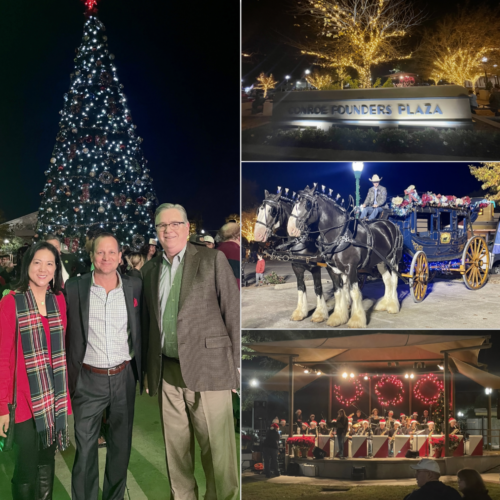 Jing and Warren Johnson attended the magical lighting of the Conroe Christmas Tree. The festive community event brings kids young and not-so-young out to get in the holiday spirit in downtown Conroe. There was The Light of Christmas show, live bands, carolers, amazing merchant window displays, and more. What an uplifting way to ignite the holiday spirit!
100% Satisfaction Guaranteed
We strive for exceptional client service with responsive, effective communication and a relationship-centered approach.