Hotel Alessandra is looking for the right roommate to fill a premiere spot in the hotel. A 2,000 s.f. area on the Dallas and Fannin corner of the ground floor of the 4-star luxury hotel is available for an appropriate tenant. Midway Companies hired PRISM to develop a rendering to entice a retailer or food and beverage operator to fill the desirable, high-traffic spot. Located within the vibrant GreenStreet mixed-use lifestyle center, Hotel Alessandra enjoys heavy foot traffic. The available space has access from the street and directly from the hotel near the main entrance and grand staircase. GreenStreet is enjoying a resurgence thanks to its position as the northern anchor of the emerging Houston innovation corridor. It links directly to the Sears Innovation Hub, Midtown living, the Museum District, Rice University and the Texas Medical Center via the METROrail Red Line. Within GreenStreet, a mix of live entertainment venues like House of Blues and a diverse collection of casual and fine-dining restaurants attracts locals and visitors alike.
In the four years since Tracy Wang joined the PRISM team as Process Manager, she has proven to be a valuable asset to our clients and our team. Please help us in congratulating Tracy on her recent promotion to Sr. Project Manager. Her service to clients is unwavering, as is the kindness and sincerity she shows all those around her.
Warmest birthday wishes to our fearless leader. Though the PRISM team wasn't able to celebrate Jing in our usual way over a good meal with lots of laughs, we did honor her with the de rigueur "pandemic parade." Honking horns and adoring waves were a great way to say "Happy Birthday Jing, we love you!"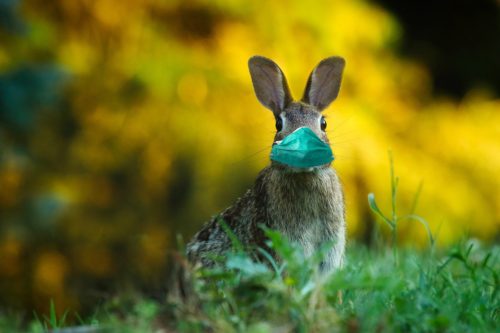 The PRISM team enjoyed wonderful Easter celebrations at our various homes despite not being able to attend church services. We reveled in the promise of the renewal process provided by the death and resurrection of Jesus Christ. Whatever your beliefs and despite our current universal suffering of this pandemic, we hope you will take the time to reflect on this Spring season and the new growth to come.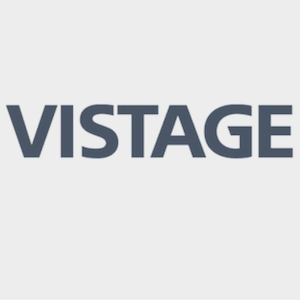 As a member of Vistage Community, Jing regularly receives insights from some of the nation's leading business experts during her monthly group meetings. Prism leadership team is also invited to attend these speaker sessions and have the first-hand learning experience. Though the group is now Zooming, the experts continue to be just as engaging. Recent speakers included Charles Scott speaking on "What do you want to be when you grow up?" and Dave Nelsen addressing "The future and how to prosper in it." As a National Geographic adventurer, Scott advocates for using discomfort to your advantage and informed risk taking as two ways to achieve business or personal success. He also recommends looking for the unexpected benefits that can come from loss. When considering the age-old question of "What Do You Want to Be When You Grow Up?" Scott recommends harnessing the sparks of vitality that live within each of us. Dave Nelsen, a renowned Vistage speaker, gave this food for thought: the human genome was first sequenced relatively recently (2003) at a cost of $2,700,000,000. Fifteen years later, DNA sequencing kits were made available to the general public for a cost of $70, a reduction in price of 38,599,000X, not even adjusting for inflation. That's the effect of exponential acceleration. Computing is still accelerating exponentially. The amount of information businesspeople must deal with is expanding exponentially. Artificial intelligence (AI) is accelerating exponentially. Augmented reality (AR) is accelerating exponentially. With better future vision, leaders can make better business decisions. They can drive innovation more effectively.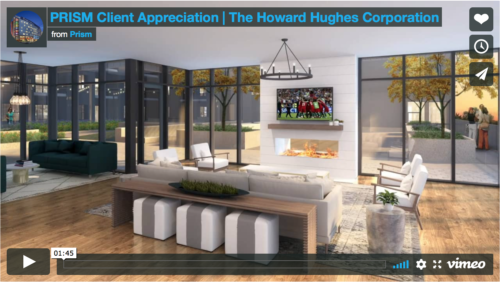 The Woodlands and Bridgeland – two of the most successful master planned communities in the nation, and The Howard Hughes Corporation® is part of both. Hughes Landing at The Woodlands was conceptualized and completed in just three years and cemented the area as a desirable corporate HQ location. Recognized for their ongoing commitment to design excellence and the cultural life of their communities, The Howard Hughes Corporation® owns, manages and develops commercial, residential and mixed-use property throughout the US. Bridgeland in Cypress, Texas recently ranked as the #18 master planned community in the nation. PRISM has been supporting the major real estate developer and management company since 2013 with renderings used for leasing and media promotion.
Prolific Houston architect Alfred C. Finn designed some of the most important buildings in Texas during his long career between 1913 and 1961. His first commission was as a project manager for the Rice Hotel, now known as The Rice. It seems fitting that another of Finn's notable projects, the original headquarters of Gulf Oil, built in 1914, was renovated as the AC Hotel by Marriott Houston Downtown, with a historically-appropriate design by MCS Architects, LLC. Dallas developer NewcrestImage purchased the building and met with the Texas Historical Commission (THC) while considering redevelopment of the property, which was listed on the National Register of Historic Places in 2017. In an interesting twist, the THC recommended the building be restored to the aesthetic of a previous renovation rather than the original construction. Architect Eugene Slater had renovated the building in 1996 and covered the original façade with a simple, modern skin, representative of the New Formalism style of the time. It was this version of the building that garnered it a place on the register of the historic place. PRISM worked with MCS Architects, LLC to develop exterior and interior renderings showcasing the refined modernist design. AC Hotel Houston opened in 2019. It features 195 guest rooms, a 3,650 s.f. ballroom, a cocktail lounge, and the AC Kitchen.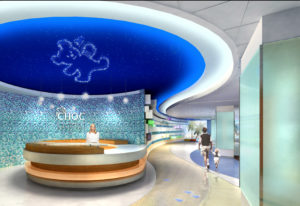 "Try to be a rainbow in someone's cloud." The Children's Hospital of Orange County (CHOC) embodies this quote from Maya Angelou. From the outside, as seen in the evening, the building is illuminated with a rainbow of color on the vertical circulation tower, shining like a beacon of hope throughout the community. When CHOC opened in 2007, it was the only dedicated pediatric facility in the region, providing surgery, imaging, emergency and clinical lab services, acute care and intensive care inpatient beds, and amenity areas for patients, families and staff. CHOC named the new addition to the hospital The Bill Holmes Tower, after the self-made pool entrepreneur who started from very humble beginnings and donated $27 million to fund the construction. PRISM worked with FKP Architects (now part of CannonDesign) to emulate the hospital's striking colorful design in several exterior and interior renderings.
As an all-female team, PRISM proudly sponsored an AIA Houston/Women in Architecture 2020 Equity Series session earlier this month. The session, Hidden Costs: An Examination of the Price We Pay for Workplace Inequity, dove into topics like what losses were incurred where inequity exists and effective strategies to improve workplace inequity. Several PRISM clients participated in the panel, including moderator Nicola Springer, VP at Kirksey Architecture, and panelists James Harrison, Principal of Harrison Kornberg Architects, and PJ Glasco, Principal at CannonDesign. Other panelists included Pascale Sablan, Founder & Executive Director of Beyond the Built Environment and Yiselle Santos Rivera, Director of EDI at HKS. Though the architecture industry has much work to do to achieve workplace equality, several firms are stepping up to lead the way. We very much appreciated the personal journeys the panelists shared and the intentional efforts female architects are taking and the support their male counterparts are providing.
The World Health Organization declared COVID-19 a pandemic on March 11. In the 20 days since then, Houston and many other cities around the country have gone under shelter in place orders. A large percentage of the workforce is now working from home. Time will tell how long it is before business as usual resumes. Until then, the PRISM team remains committed to serving clients safely, in any way needed. Our team is working remotely and making the best of the unexpected but enjoyable family time – like project manager Lily Luo doing yoga with her daughter, VP of Operations Sarah Amos doing a drone technology lesson with her kids, and others on the team spending time with their fur babies and working out with their kids. See all the ways our team is staying centered, plus tips on working from home, on our Facebook page. And please share your suggestions with us!
100% Satisfaction Guaranteed
We strive for exceptional client service with responsive, effective communication and a relationship-centered approach.