Houston's First Baptist Church opens expansive new campus, new life for Lake Conroe Marina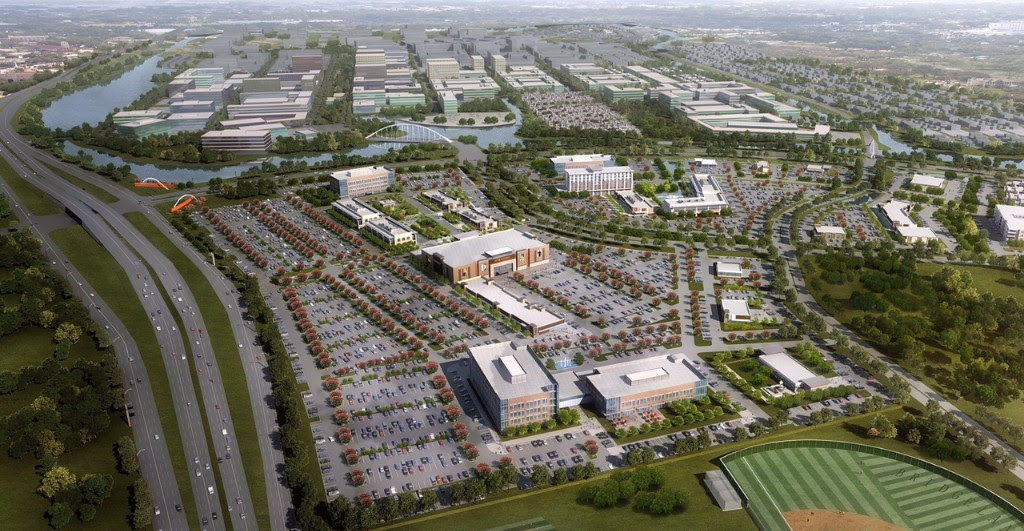 Religion follows rooftops
Most know the development mantra that retail follows rooftops, but one growing Houston congregation isn't waiting around for the retailers. Houston's First Baptist Church opened a 100,000 s.f. church in the Bridgeland master-planned development in June. The campus sits on 32 acres off the Grand Parkway. It features a 1,300-seat worship center, 28 preschool and children's classrooms, large meeting rooms, a teen hangout area, two playground areas, and several private counseling rooms.
Kirksey Architecture designed the new Cypress campus, and recently presented the project as a case study at WFX, the largest church conference and expo in the country. Kirksey Community Team Leader, Janis Brackett, AIA, joined Jason Swiggart, the Cypress Campus Pastor for Houston's First Baptist Church, to educate conference attendees on the design and construction process. "We showed how much fun the process can be when you have a collaborative team," Brackett said. "PRISM's renderings helped us demonstrate how we progress from visioning sessions, to sketches, to BIM outlines, to renderings, to the first worship service. PRISM's renderings were integral to the success of communicating Kirksey's design to the congregation." PRISM worked separately with Howard Hughes last year to develop updated aerial renderings of the Bridgeland mixed-use corridor. At a recent event, Howard Hughes Executive Vice-President for Masterplanned Communities Paul Layne reported that Bridgeland currently has 9,000 residents. The developer expects upwards of 65,000 residents in the coming years. This Houston Business Journal article features a great bird's eye view of the entire 11,400-acre community.
---
Luxury coming to Lake Conroe boaters
MHW Commercial Real Estate acquired Pier 105 Marina earlier this year and is well on the way to a completely revamped facility. MHW came to PRISM with only a survey of the existing property, and a clear vision for a new, boater-centric marina. The site was showing its 40+-year age. MHW relied on PRISM to develop renderings that could be used to court a new restaurant operator and tenants. Planned renovations include the removal of Captain Jacks Restaurant, a reinvigorated showroom for the existing boat dealership, upgrades to boat slips and dry storage, addition of a new Harbor House, and space for additional restaurants. PRISM helped MHW capture their ideas with an aerial view of the 8-acre site at full build-out, including the planned architectural style of the development. Look for the new marina in summer 2018.
---
PRISM celebrates 12 years of client service
In 2005, PRISM (then known as Pacific Consulting Group) was a one-woman show, courting architects to demonstrate quality visualization services. Twelve years later, PRISM is now a core team of six professionals and four production teams, with the support of a group of highly specialized consultants, serving architects, developers and owners around the country as a trusted advisor. Clients have always come to PRISM for our high-quality renderings, animations and exceptional client services. Increasingly, we have been asked to help our clients bridge their vision with life-like images. Some clients come to us with only site plans, hand sketches or reference photos—no architectural drawings. With many on our team having advanced architecture degrees, these project opportunities allow us to not only produce photorealistic renderings, but also employ our right-brain creativity to help shape our client's vision. It's the work we truly love to do, and clients tell us often that this service helps their businesses in many ways. What a win-win! To all of our clients, we extend our sincerest thanks and appreciation for your loyalty and support through the years. It's what allows PRISM to continue to grow and thrive. We invite you to let anyone on the PRISM team know how we can make your job easier. Cheers to the next 12 years!