Burning Man's holistically sustainable new site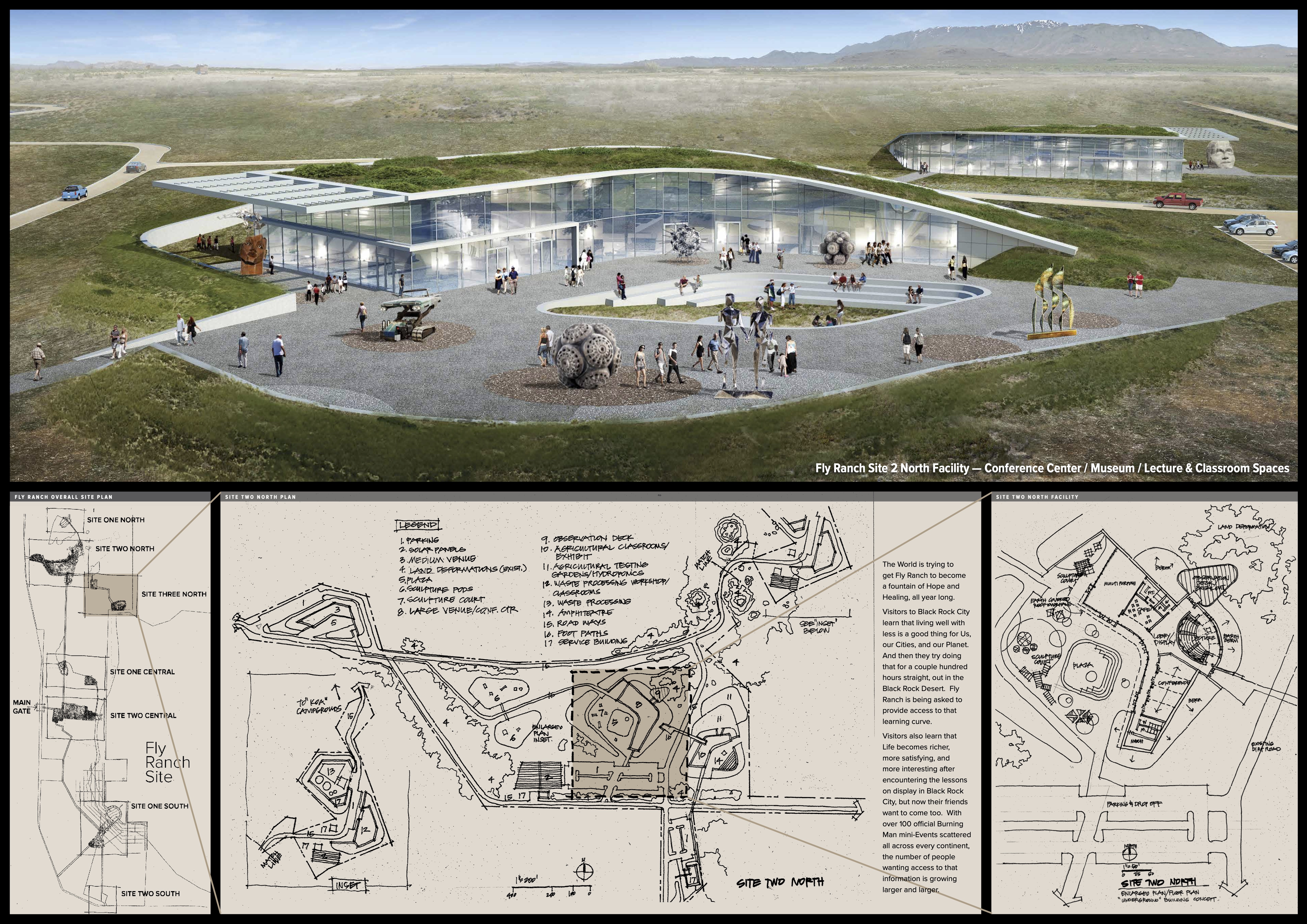 Fly Ranch is the site of Black Rock City, the oldest and largest Burning Man celebration in the world. Land Art Generator Initiative, (LAGI), an international biennial design competition and the Burning Man Project partnered to hold a multi-disciplinary design challenge that would create the foundational infrastructure of the Fly Ranch. Developer, artist, and futurist Ty Eckley of KCTC, Inc. tapped PRISM to join a team submitting on the LAGI 2020 Fly Ranch competition. Architect Warren Johnson of Johnson Design Group, and graphic designer Phil Schmitt also contributed to this unique and exciting pursuit. The contest timeline was six months, with four months added due to the pandemic. Our team made a late decision to enter and had two weeks to compile an entry. The team's intention to enter the contest was not about winning, but about creating a solution honoring the Burning Man spirit and practical enough to provide permanent event infrastructure for the next 50 years. The team treated this as an experiment to explore the long-term, net-zero design possibilities of a facility dropped into an inhospitable desert environment. Every August, Black Rock City is briefly home to 70,000 people in northern Nevada, gathering to celebrate Burning Man. In 1997, Black Rock City moved to Fly Ranch, a 3,800-acre property just north of the event site. Over the following 20 years, people imagined building a permanent home for Burning Man's temporary community at Fly Ranch. As Burning Man embarks on a 2030 plan to make the annual event at Black Rock City sustainable, Fly Ranch will serve an important role in that effort. Fly Ranch's unique geological features include dozens of hot and cold springs, three geysers, hundreds of acres of wetlands, dozens of animal species, and more than 100 types of plants. The land has a 10,000+ year history of stewardship by the Numu (Northern Paiute) and Newe (Western Shoshone) people. On the festival site, Burning Man brings together many diverse visions and skills. The culture is notable for:
A history of rapid prototyping and design thinking
Deploying infrastructure not only in Black Rock City but globally for impact
A global community of diverse interests open to collaboration and cooperation
Supporting daring ideas and iterating when the first implementation isn't a success
A combination of STEM skills with artistic underpinnings into STEAM (STEM + Art)
With hundreds of expected submissions, the LAGI 2020 Fly Ranch Competition outcome will offer the world a portfolio of solutions for energy, water, food, shelter, and zero waste. Responses will incorporate the latest media technologies available, for awe-inspiring works of infrastructural art in the landscape. Armed with Ty's intimate knowledge of Fly Ranch and his vision for what Fly Ranch could become, our team developed a tripartite Design Concept to meet the net-zero goals while also meeting the practical needs of the annual and day-to-day operations of the foundation. We developed three sites with completely different, yet complementary functions: North Ranch: Highly environmentally sensitive in nature, any structure must be "one with the land". Our semi-underground structures impact the land lightly while being an energy bubble against the extremely hot summers and frigid winters. Meeting, farming, and solar energy are highlighted here. Middle Kingdom: The central brushland contains a perfect location for the Fly Ranch Welcome Center. This is where Burning Man registration, seminars, conferences, art exhibits, historical artifacts, and outdoor art walking trails and gardens happen. The architecture here is meant to celebrate the Burning Man culture, define a singular landmark for the Ranch, and provide for the needs of the mass of people coming each year. It will also house administrative and conference facilities to be used throughout the year, promoting Burning Man's goals to the outside world. South Entrance: Fly Ranch access is from the south, adjacent to the town of Gerlach and Black Rock Station. Here, entrants bring their caravans (teams, equipment, artwork, food, RV's, etc.) to lodge and resupply in the middle of this high plains desert. As such, the design here is meant to evoke the culture and history of the surrounding people of the land and be an oasis for beleaguered travelers. Together the culture of the native land and the Burning Man vision are melded into a network of facilities that can serve visitors to Black Rock City for decades to come.