Won't you be my neighbor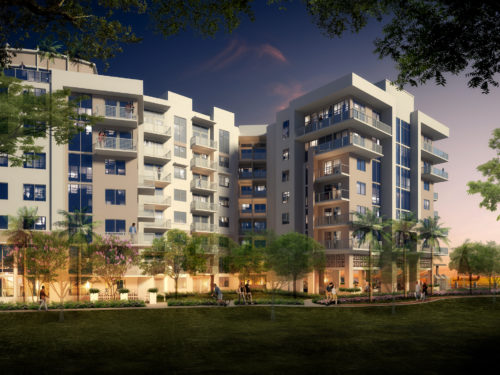 Part of being a good architectural neighbor is minding the context – site history, local culture, architectural style, native materials, and climactic conditions, to name just a few of the conditions. Developer Related Group and MSA Architects, Inc. (MSA) received approval last month for a new multifamily project on downtown Jacksonville, Florida's Southbank. The 8-story apartment community, named River City Brewery, will replace the existing River City Brewing Co. restaurant. The redevelopment of this prime parcel had to accentuate the riverfront and existing marina, heed the design of the surrounding museums, and respect the adjacent monumental fountain and park.
PRISM produced several early-stage renderings
to assist with the approval of the project by the Jacksonville City Council and the Downtown Development Review Board. River City Brewery will break ground later this year. Keeping with Related Group's mission to develop lifestyle-infused properties that revitalize urban neighborhoods, the new community includes several pocket parks incorporated into the site, and resident lounge terraces that take advantage of river views. MSA created a soft contemporary façade with a pale stucco palette. The $99.16 million project will have 327 units, a freestanding 535-space parking garage, and a new restaurant adjacent to River City Brewery. The 3,500 s.f. space will feature an expansive two-level terrace for outdoor dining along the riverfront.