Rising in downtown Houston's shadow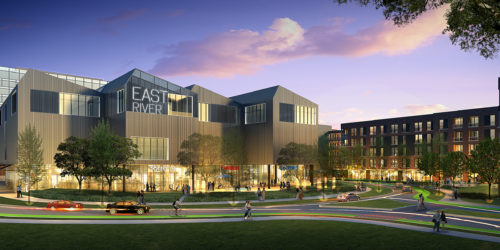 East River developer Midway calls the project "one of the greatest urban redevelopments in a generation." The site, a former KBR campus in Houston's historic Fifth Ward, and the scale, 150 acres with one mile of waterfront along Buffalo Bayou, set it apart as the catalyst for invigorating an all but forgotten quadrant of central Houston sitting north of the bayou and east of I-69. Current plans call for build-out in five phases and include 8.9M sf of Class A office, 500K sf of retail, 1,400+ multifamily units, 475+ single-family homes, 390 hotel rooms, and more than 12 acres of green space.
PRISM has been working with Midway since 2017 to develop renderings for the many different views of East River.
The development's design focus is on creating a high-quality, walkable mixed-use environment. With such a range of program areas and the strong connection to Buffalo Bayou, East River is poised to become a destination for locals and tourists. The development will also be the new home of the Houston Maritime Education Center and Museum. Page is lead architect, Munoz + Albin is designing the exteriors of the multifamily component and Mayfield and Ragni Studio is designing interiors, and OJB Landscape will provide landscape architecture. The entire site is in a qualified opportunity zone, something Midway hopes will lure companies to East River. No date is set yet for the start of construction.