Miami's accessible beach for all abilities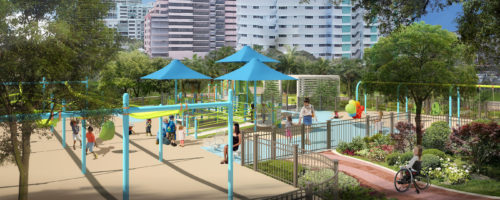 For the 29% of Miami-Dade residents living with a disability, a visit to the beach is no easy feat. Inaccessible walkways and the sand itself make it almost impossible for people with limited mobility to put their toes in the sand. A new adaptive oceanside park in Miami Beach is about to change that. And with an adjacent adaptive fitness and recreation center, there will be no shortage of inclusive recreational opportunities for residents of all ability levels.
The Sabrina Cohen Foundation spearheaded the effort to redevelop an existing 1.25-acre city park and beach. The new park is the first phase of the masterplan that will also include the 3-story Adaptive Recreation Center, the first of its kind in the United States. The Foundation commissioned PRISM to produce the marketing renderings used in the capital campaign and opening promotions. Bruce Howard & Associates is doing landscape architecture and Kobi Karp is the architect. A recent press conference announced the gift of $577,000 from Miami-Dade County to reconstruct the park. It features an adaptive playground and exercise equipment, a butterfly garden, and a Pathway of Inclusion – a wheelchair-accessible ramp from the beach to an observation deck extending over the dunes. The park is expected to open next summer. The Adaptive Recreation Center will be built on the adjacent city parking lot. The Sabrina Cohen Foundation is managing the capital campaign to raise the funds for construction, expected to be $10.5 - $12 million. A wheelchair-accessible deck will wrap around all three floors and provide exceptional views of the renowned Miami Beach. Plans also call for an adaptive gym, rooftop pool, robotics lab, and storage space for beach wheelchairs and flotation devices that users can take out to enjoy the ocean. Sabrina Cohen founded the eponymous foundation in 2006; she sustained a spinal cord injury in 1992 from a car crash that left her a C5 quadriplegic. The Foundation raises funds for quality of life fitness and recreation initiatives for the disabled community. To help support these plans to fund the new park and center visit their current name-a-brick campaign.