Texas-sized expansion underway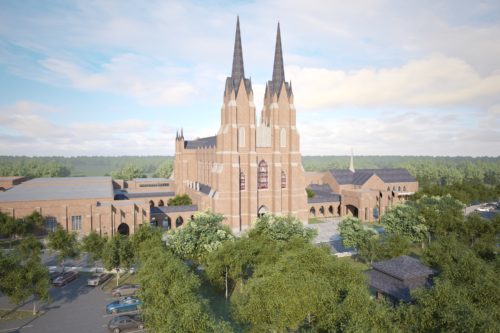 The largest Episcopal church in the United States is right here in Houston. And it's getting bigger.
St. Martin's Episcopal Church
broke ground earlier this year on a $55 million expansion on its campus in the affluent Tanglewood area. Jackson and Ryan Architects designed the new buildings, which include a 900-seat Parish Life Center; it will host the church's popular contemporary services and events like concerts and speakers. Other new buildings include Children's Ministry, Music, and a Pastoral Care Center. The existing 1959 church building is being renovated into Christ Chapel, a smaller 250-seat sanctuary for baptisms, funerals, weddings, and other services. Construction started earlier in 2019 and is expected to be completed in the Fall of 2020.  Tellepsen Builders is the general contractor, and also built the majority of buildings on the campus, including the original sanctuary.