Pièce de résistance of parking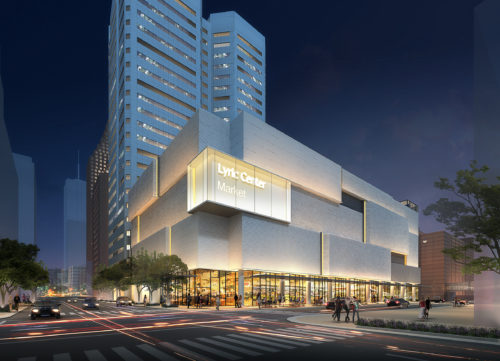 AIA Houston recently announced the winners of their 2021 Design Awards. In the architecture less than 50,000 s.f. the winner is the Lyric Center Garage.
PRISM worked with firms Kirkey and Munoz + Albin to develop several rounds of renderings for this significant new addition to Houston's Theatre District.
Not your typical garage, this project features projected masses on each façade to break up the horizontal planes of the standard parking structure. The glass exterior features customizable LED panels that illuminate the entire façade. The ground level has an articulated façade and is occupied by a 31,000 s.f. dining hall with covered outdoor patios. The facility also has full license plate recognition technology at every space, allowing contract parkers access without manual badging. The technology can also provide a digital map to help parkers locate their car. The owner calls this 'Parking Perfection' on their webpage and refers to the Lyric Center Garage as a work of art. We agree! Congratulations to Kirksey, Munoz + Albin, and all the award winners this year!