Homes for all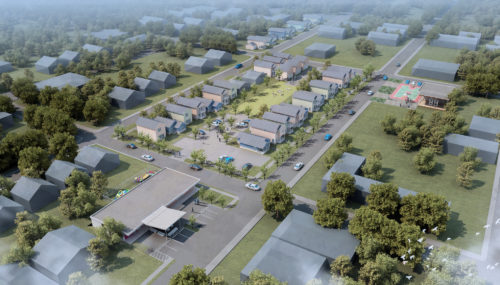 The median price of a single-family home in Houston hit a record high of $304,000 in May 2021. Considering that the median income of all Houston's neighborhoods is $44,124, this makes home ownership infeasible for many. And in Greater OST/South Union, where the median income plummets to $27,373, owning a home is only a dream for many residents. The Agape Homes Community Development Corporation (CDC), created by Agape Development Ministries because they saw their neighbors being displaced due to gentrification, is helping make this dream a reality. The non-profit plans to build 75 community-designed, affordable, energy-efficient homes. It is helping families below 80% AMI by offering to sell the homes at their cost. Local architect Kim Schaeffer led a community design charrette that shaped the final floor plans produced by W Partnership; all the homes feature exteriors that fit with the historical architecture of the neighborhood. Newmark Homes also provided insight into the design and ongoing support for the development.
PRISM worked with the team to generate renderings critical for the development's success
; renderings were used for Agape to obtain a land grant from Midtown Redevelopment Authority, purchase adjacent lots, market to future homeowners and donors, and aid new homeowners with home completion. Agape Homes is building new homes on empty lots in the neighborhood south of the University of Houston called OST/South Union. The intent is to cause zero displacements while increasing the owner occupancy rate in the neighborhood. Homes will range in size from 839 s.f. to 1,453 s.f., to fit the needs of buyers while staying affordable. All homes were designed through a community charrette with the input of neighborhood families. In addition to working in OST/South Union, almost all of the full-time staff from the Agape housing, ministry, and social enterprise teams live in the community as well. This practice allows the organization to plug in, share and experience the good, the hard, and the challenges of daily life in the neighborhood. It also helps to build closer relationships and be a resource and partner for the benefit of the whole area.