Designed to achieve net zero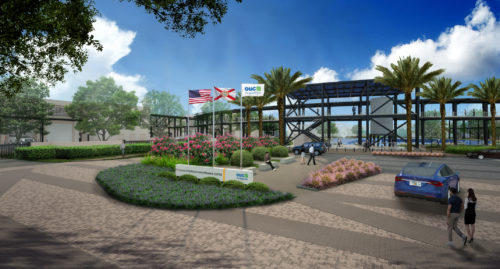 The Orlando Utilities Commission (OUC-The Reliable One) is planning an ambitious new operations and maintenance center. PRISM played a small part in making it a reality. OUC-The Reliable One selected Jacobs to design a new campus to support a growing region of their electrical service territory; it will be built on a 24-acre site in St. Cloud, Florida.
PRISM developed several exterior renderings, which were used to obtain final project approvals.
Ajax Construction is the project's construction manager. The operations and maintenance center is planned as a multi-phase project. Phase 1 will total almost 153,000 s.f. and have dedicated space for the warehouse, fleet maintenance, charging and fueling, a vehicle wash, and offices. The facility is designed as a net zero energy campus. In addition to supporting client goals, the project is also an example of Jacobs' commitment to the Architecture  2030 commitment to reduce carbon emissions by 50% versus 2005 levels, and achieve net-zero carbon emissions on projects by 2050.