Sector spotlight - Healthcare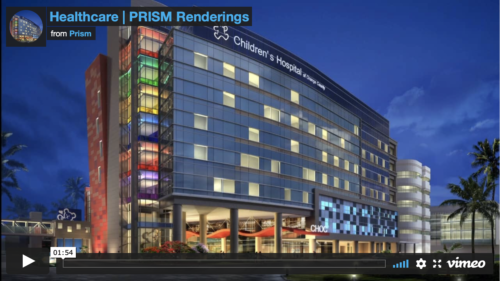 Healthcare facilities have been in the news a lot this year. Beyond the issue of capacity, the pandemic has forced providers to quickly adapt to service model changes. Telemedicine has proven to be effective for primary care. Alternate testing sites like pharmacies are increasing. Nonphysicians such as nurses, nurse practitioners, and physician assistants are playing a larger role in care, especially in rural areas. And even as the industry is facing the challenges of rapid evolution, the AIA Consensus Construction Forecast is projecting healthcare to be one of only two sectors with positive growth in 2021; the Forecast is expecting a 3.2% increase in spending on healthcare and a 2.5% increase on public safety. PRISM has worked directly with hospital systems, developers, and privately-owned care centers to produce a wide range of renderings and animations. Clients come to us to assist in the early project phases, producing renderings for fundraising campaigns, marketing and promotional materials, and the overall patient experience. We also help project teams work through design options for renovations and updates, using our renderings to illustrate the spatial layout. Our clients also use renderings for campus orientation and wayfinding.
This video
spotlights a small portion of our healthcare portfolio.